The Victorian Government has introduced a $50 incentive for consumers to search for better energy deals on compare.switchon.vic.gov.au. All eligible consumers who complete an energy comparison and verify their details will receive a cheque in the mail from the Victorian government for $50. 
The Power Saving Bonus isn't an EnergyAustralia initiative, nor a rebate or concession. It's a new, one-off bonus directly from the Victorian Government to consumers who register and compare energy plans on the Switch On site.
If you're a Victorian residential account holder, you can complete a comparison on compare.switchon.vic.gov.au. You'll need to confirm your energy account details by uploading a PDF of your bill; or fill in your account name and number, National Metering Identifier (NMI), meter serial number and service address. (All this information is on your EnergyAustralia electricity bill.)
Only one $50 Power Saving Bonus may be claimed per household. 
No. You'll get the $50 bonus simply by comparing your plan on the site.
If you don't have an electricity service, you can still claim the $50 bonus cheque with a gas bill. Only one $50 Power Saving Bonus may be claimed per household.
To access your account details or to download a PDF bill, register for or log in to My Account and go to the 'My Bills and electricity usage' section.
If you can't provide the PDF version of your bill, you'll be able to get all the information you need from your EnergyAustralia electricity paper bill:
Account name
Account number
National Metering Identifier (NMI)
Meter serial number
Service address
You can find your NMI number and meter serial number on your electricity bill. Look for the NMI on the front page of your bill.
If you need meter serial number, you'll find it in the Meter details section at the end of your bill.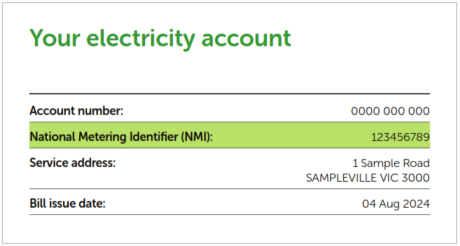 The Switch On website has a process for you to contact your distributor (the local network company) to get the smart meter data sent quickly. You'll see a pop up message during the comparison process. Select 'show me how to download my data', and follow the prompts. 
You can also get your smart meter data from EnergyAustralia. Simply send us a request.
Your Power Saving Bonus cheque should arrive in the mail around four to six weeks from the date you entered your details on the Switch On website.
Email Victorian Energy Compare at vec.info@delwp.vic.gov.au to raise a case to have the bonus payment investigated. EnergyAustralia is unable to track the status of your $50 payment.