If you have an ABN, your premises may be eligible for commercial solar. Whatever industry you're in, solar power could potentially deliver real cost savings to your business. Solar power is an affordable way to lower your electricity costs and it could also help improve your business' green credentials and make your building more attractive to prospective tenants or buyers.
Long-lasting benefits for your business
Solar power could potentially deliver long term cost savings to your business. We'll help you understand Solar PV for your business needs, and can also talk to you about battery storage solutions to manage your energy usage.  
Take advantage of government renewable energy incentives
Upfront rebates based on Small-scale Technology Certificates (STCs) or revenue from Large-scale Generation Certificates (LGCs) can help with the cost of installing solar. In some cases you may be eligible for tax incentives.
Show your customers you're committed to the environment
Having solar power clearly shows to your customers and clients that you have a strong commitment to the environment.
How solar power works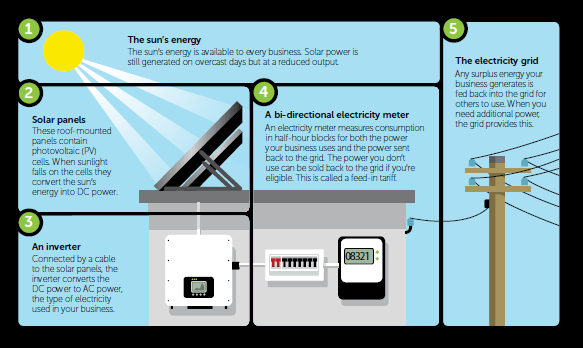 Are you a residential customer?
Discover more information about our solar power products and plans.