Find your way around your bill
Choose to view the electricity or gas bill guide below. Click the hotspots on each section to explore the items in more detail and or use the search function to find exactly what you're looking for.
Find simple bill explanations, your usage information, as well as the rates, charges and rebates you're currently paying and receiving. You'll also find your next meter read date, comparisons to previous bills and much more.
You can also download a copy of each guide: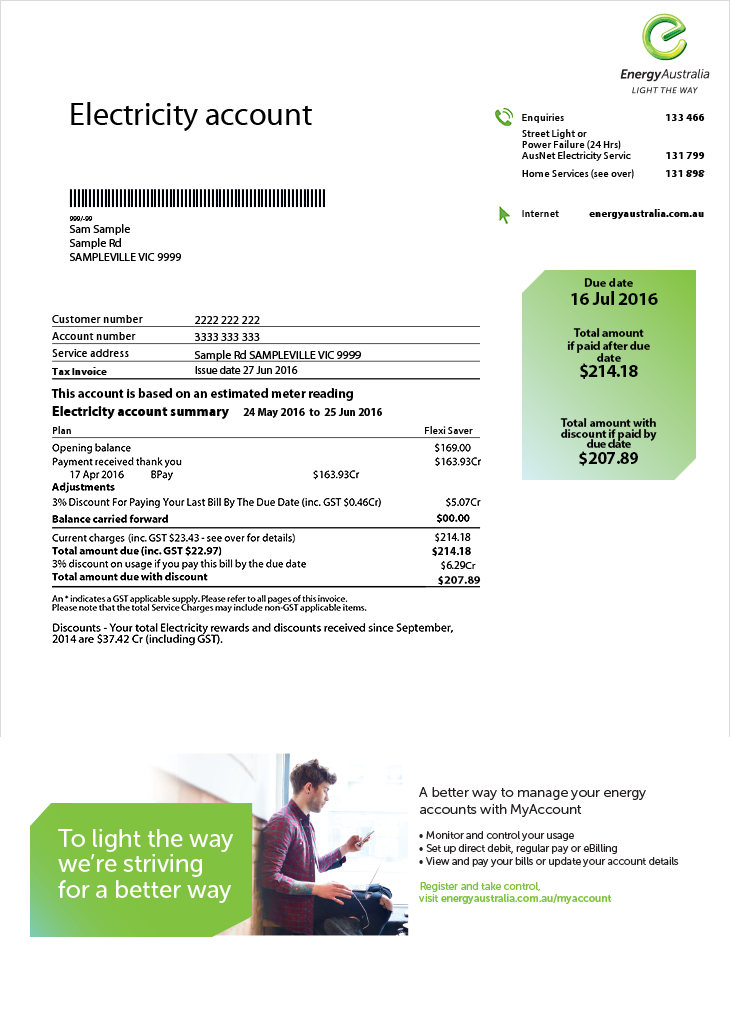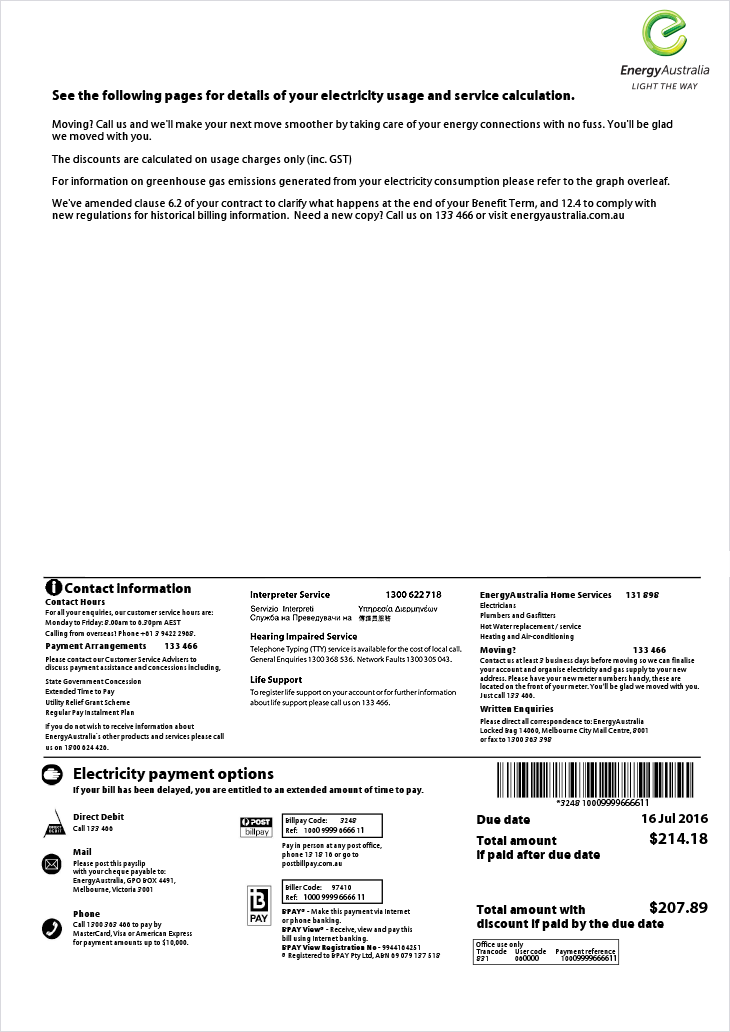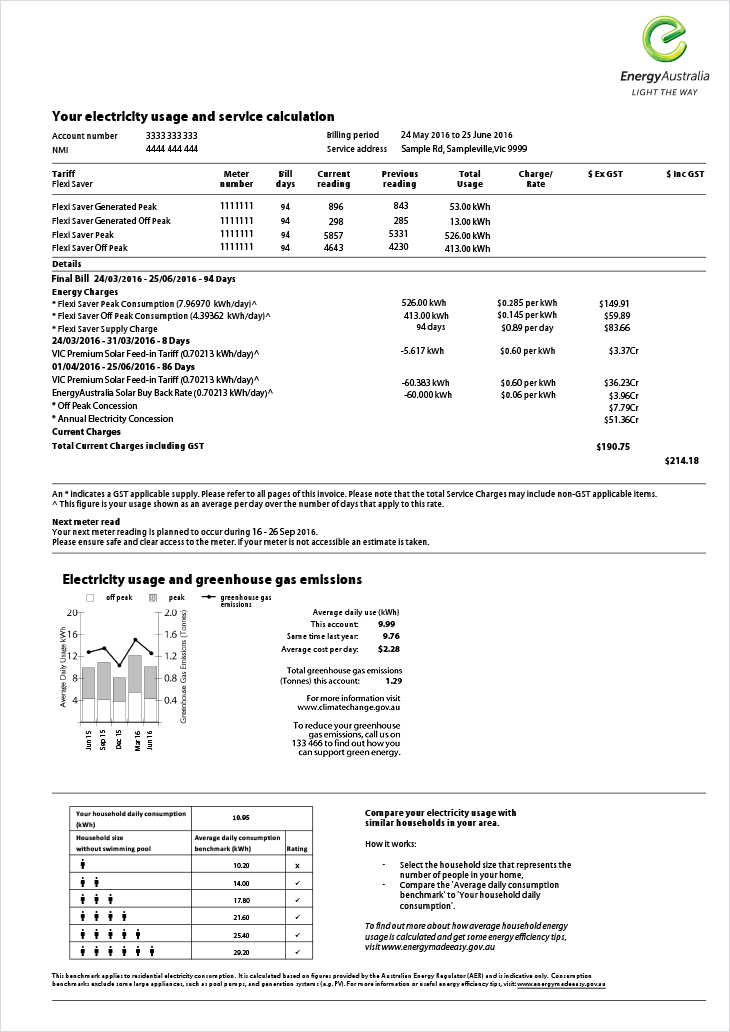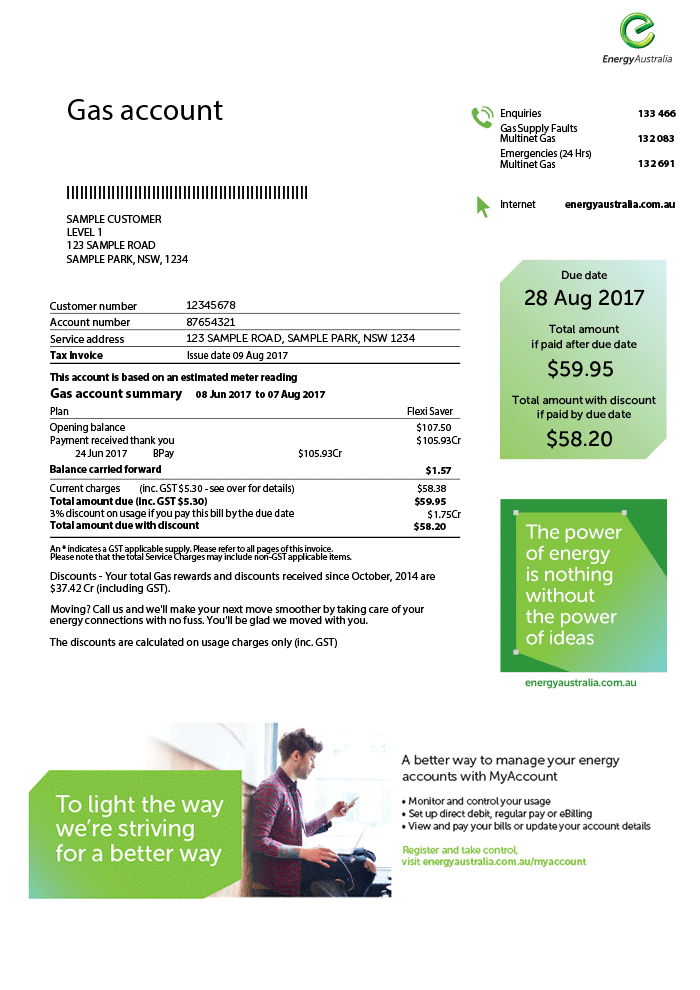 There are a range of easy payment options – simply choose the one that suits you best.
Note – a credit card merchant service fee may apply if you pay with your credit card.
The total amount due must be paid by the due date.
If you pay by direct debit, then your payment will be debited from your nominated bank account on the due date, or according to your direct debit arrangements.
The total amount due is the amount payable (including GST).This amount includes any payments made towards your account or balances that have been carried forward from your previous gas bill.
Any discounts that apply to your plan are calculated and subtracted from your bill. Discounts may apply to your gas charges or when you pay on time. Please note that any pay on time discounts are only applied to your account if you pay your bill by the due date. Your pay on time discounts will appear in the 'Adjustments' section on the front page of your next bill.
To find out more about your plan discounts, go to energyaustralia.com.au/plans.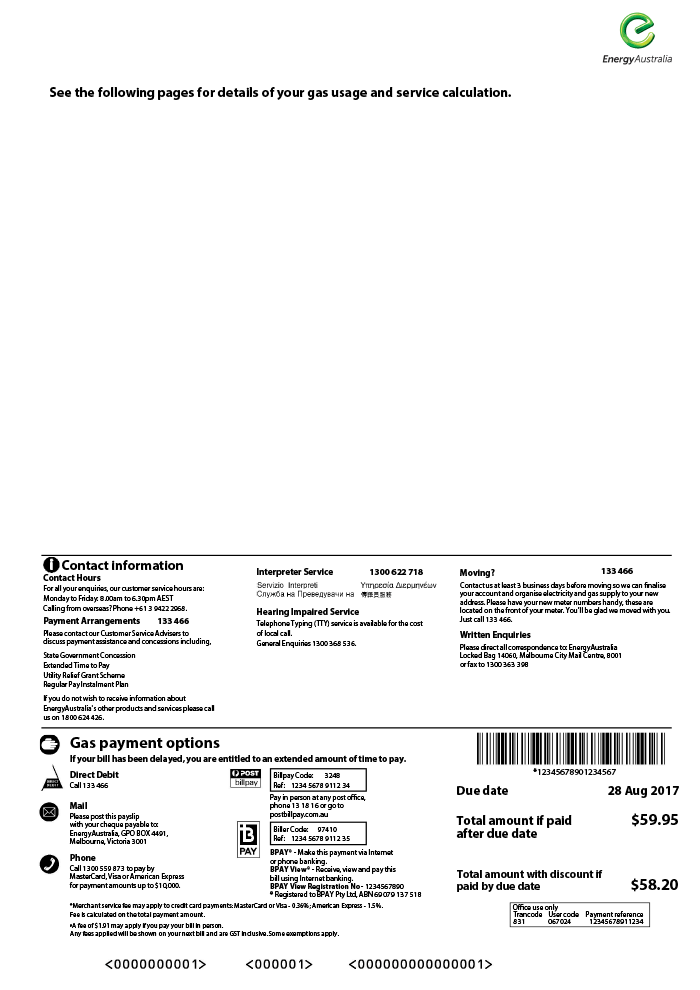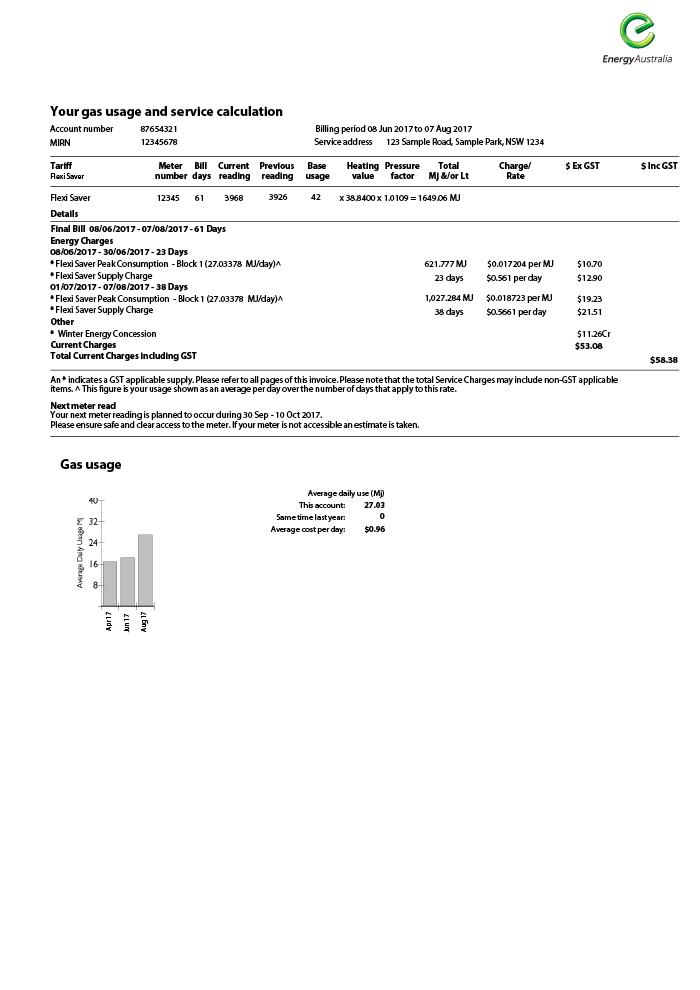 Want to chat with us online?
Our energy experts are available for live chat:
Monday to Friday
8.00am to 9.00pm AEST
Saturday
9.00am to 6.00pm AEST
Live Chat
Live chat is currently unavailable.
We apologise for any inconvenience.
Want to chat with us online?
Our energy experts are available for live chat:
Monday to Friday
8.00am to 9.00pm AEST
Saturday
9.00am to 6.00pm AEST
To register for My Account, you'll need your Account Number (which can be found on your EnergyAustralia bill), an email address and some ID handy, like a Driver's Licence or Medicare Card, so that we can verify your identity.
You will also be asked to set up a password for your My Account.
You can register now at My Account.
We use data collected from a sample of our customers, across all states in which we operate, and who have been with us for at least 9 months. We have calculated the total energy costs  of similar households from the hundreds of thousands of customers sampled and divided that sum by the total number of customers. Using that as a base we have calculated the approximate energy costs for similar households for each month/quarter.
We then apply the rates for your zone, service charges, and any discounts which come with the plan you select. All these can differ from area to area, state to state, and in some cases even from winter to summer.
The simple part is that we do all the calculating. Our aim is to provide you with an indication of what customers of similar households living in your area could expect to pay on average per month/per quarter. It should not be used as an official quote. The amount you actually pay will be based on your individual energy usage.
If you just need an extra week or two to pay a typical bill you can request a payment extension through:
We will automatically adjust the due date. You'll just need to enter your account details and some information that can be found on your current bill. Contact us if you're having greater difficulty paying your bill and would like to discuss your options.
Our energy saving big ideas outlines the many ways you can cut your bills and minimise your impact on the environment.