Powering Victoria and beyond, 24 hours a day, 365 days a year.
Nestled in Victoria's Latrobe Valley on the traditional lands of the Braiakaulung people of the Gunaikurnai nation, Yallourn Power Station – or simply Yallourn, as the community and we call it – has been providing both state and nation with electricity since 1974.
Yallourn is powered by brown coal produced from Australia's second-largest open cut mine, just next door. Every year, we mine around 18 million tonnes of high moisture brown coal that is used to boil water into a superheated steam that drives Yallourn's four massive turbine generators. Together, these turbines produce 1,480 megawatts of electricity an hour – enough to power about 2 million homes.
Today, Yallourn provides 22 per cent of Victoria's electricity, and about 8 per cent of Australia's National Electricity Market.
But power is only part of the Yallourn story. Yallourn is also about a long and proud history. About the environment. About our people.  And of course, about community.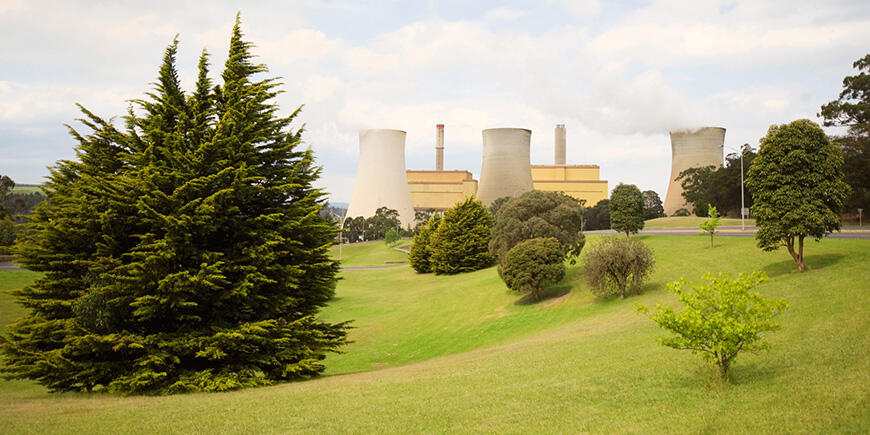 Yallourn at a glance
Original power station built in 1921
2 x 350 MW and 2 x 375 MW turbines
10,500 GW p.a.
18 million tonnes of brown coal p.a. 
Operates 24 hours a day, 365 days a year
Generates 22% of Victoria's electricity, and 8% of Australia's
Australia's second-largest open cut mine 
Concrete cooling towers first of their kind in Australia
First Victorian Government-owned power business to be privatised
Contact us
Email
yallourn.enquiries@energyaustralia.com.au
Phone
03 5128 2000
Postal address
PO Box 444, Moe, Victoria, 3825, Australia
Our location
Eastern Road, Yallourn, Victoria, 3825