Products for storing your solar power
Our battery solutions offer a range of features and benefits for the modern, energy efficient household. Batteries store excess energy for use overnight, early morning or during overcast days. Battery storage systems can also store off-peak energy from the grid for use in the home during peak times.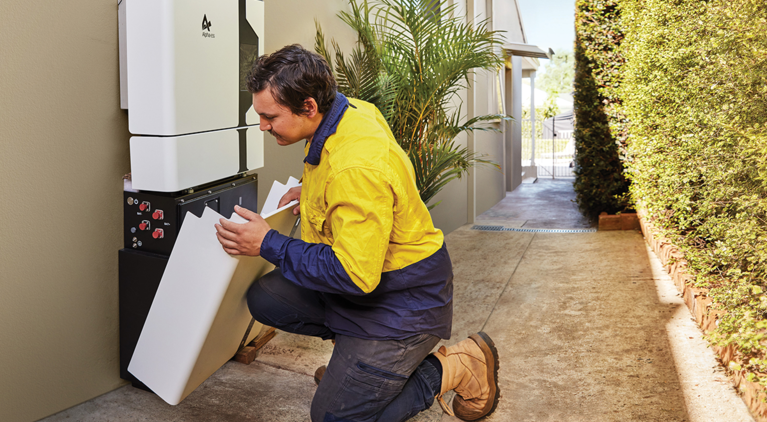 At EnergyAustralia we've partnered with a number of brands for residential battery storage. We only install batteries included on the CEC's Approved battery list and use CEC Accredited Battery Installers.
Solar panels can help homeowners power appliances and devices in their home during the day, helping to reduce reliance on electricity from the grid. However, panels only generate energy when the conditions are suitable. This is when a battery storage solution can help keep your home powered at all hours of the day, whether it's overcast or sunny (until the battery is discharged and will need to charge again through solar or grid)
A home solar PV system is made up of multiple components to help convert energy. First, there are the solar panels which send energy generated from the sun to an inverter to convert the energy from DC to AC electricity. The electricity that is generated will then feed through a switchboard and to all the appliances in your home that require power. If the sun isn't shining, then your home will rely on the electricity grid to keep your power running. If your panels are generating more solar energy than needed, it will feed this energy back to the grid and you may receive a solar feed-in tariff from your electricity retailer for energy your panels feed back to the grid.
This process changes if you have battery storage installed into your solar system. Rather than excess solar energy feeding into the grid, it will be stored within the battery for use when desired. The grid will only need to switch back on when it recognises that the battery has no more energy left to power your home. Once the sun rises and the panels start producing solar energy again, the process may restart and the battery will return to storing excess energy for the next time it's needed.
The best size battery for you depends on your circumstances, what you're after, and how much excess energy your solar system is generating.
Decisions on battery storage may also depend on how much you're willing to spend on your battery, how much space you have to fit the battery, how much storage you need and whether you want a battery to meet future requirements such as electric vehicle (EV) charging. 
Our team of energy solutions consultants will be able to help you find a battery size that is suitable for your household.
Some batteries (AC coupled) can be retrofitted to an existing solar system. Talk to us today to find out if your system is eligible.

Confidence with every system
We provide a five-year installation warranty. Our work is in accordance with required industry codes of conduct, building codes and local government and legislative requirements. All supplied systems, components and equipment comply with Australian Standards. Backed by the energy expertise of one of the largest energy companies in Australia, EnergyAustralia. Learn more.
Echo Group Corporation Pty Ltd ABN 34 158 561 927, is part of the EnergyAustralia group and supplies and installs solar, battery and related products to customers.