The days of last-minute evictions and never-ending repairs may be over for Victoria's renters. New legislation promises to boost their rights and weed out the practices of dodgy landlords. In a raft of changes introduced by the Andrews Government, rental bidding will be banned, landlords will be prohibited from evicting renters for no reason, and every tenant will be allowed to own a pet, unless landlords meet criteria for refusal. "Everyone deserves the chance to have a safe, secure and affordable home – whether you own it or not," Victorian Premier Daniel Andrews said in October.
Capped bonds
The new legislation addresses tenancy issues both big and small. Minor modifications such as installing hooks for artwork and photo frames will be easier for renters. And bonds will be capped at one month's rent. This means a family renting a $420-a-week property will pay no more than $1800 in bond.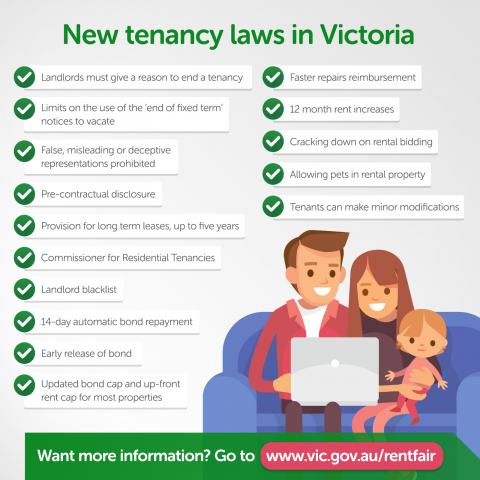 Bonds will be released faster at the end of a tenancy – instead of applying for a bond seven days before the end of a tenancy, renters can request their bond to be repaid 14 days before they vacate. Rental increases will also only be allowed every 12 months instead of six months.
Dodgy landlords and real estate agents put on notice
The reforms of the Residential Tenancies Act (RTA) will also see the creation of a blacklist for landlords and real estate agents. Further changes include the introduction of a Commissioner for Residential Tenancies, who will advocate for Victorian renters, and a shortened deadline for urgent repairs – from two weeks to one.
The Victorian Council of Social Service describes it as a win for the 1.5 million Victorians who rent their homes. "Victorians are renting for longer than at any time in history, making strong protections for tenants more important than ever," chief executive Emma King says. "These changes will help level the playing field. All renters will benefit, but especially those on low incomes or facing disadvantage who currently lack the power, time and resources to enforce their rights."
The end of real estate investment?
The new legislation isn't without its critics. The Real Estate Institute of Victoria, for example, has warned that the changes have the potential to destabilise the state's private rental market. "These changes will reduce the attractiveness of property investment in Victoria with a significant number of landlords indicating they will exit the market," chief executive Gil King says.
Tenants Victoria has however welcomed the changes, particularly the lifting of the "no specified reason" eviction notices, but has called for them to go further. "It is virtually impossible for tenants to feel secure in their homes when they can be evicted without proper reason," says chief executive Mark O'Brien. "The abolition of the no-reason notices to vacate is a great step forward, but the Government also needs to make sure it isn't easier to evict a tenant for other reasons."
---
Need more information? Then go to www.vic.gov.au/rentfair/ for further details and stories.