Falling wholesale electricity prices, which is the cost retailers pay for electricity to supply their customers, has fallen as more renewable generation enters the market.
At solar peak we have seen days where wholesale prices fall to zero – or even become negative – just when most solar systems are generating.
According to the 2019 Clean Energy Council Australia report, one in five households now have solar panels, "with six panels installed per minute."
This is an incredible feat to have so many Australians embrace renewable energy and makes Australia a world leader when it comes to household solar per capita.
To reach these soaring levels of household solar energy adoption, feed-in tariffs were historically higher to encourage adoption.
Every year, state governments issue a proposed minimum single rate solar feed-in tariff.
You can see the minimum feed-in tariffs below for 2021. As we want to encourage the continued growth of solar energy in Australian households, and to help prepare for more widespread installations of batteries into homes, our rates continue to be higher than the minimum feed-in tariffs set by state governments, and remain competitive.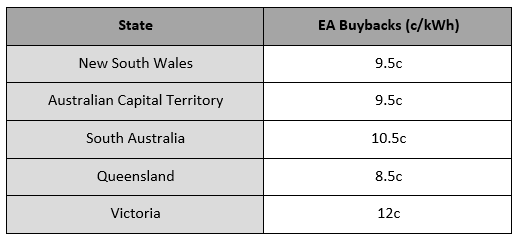 We like to think that we're still delivering good value for the power you put into the grid.
We understand, however, that you're disappointed with this outcome.
The Victorian Essential Services Commission issued a statement on 17 November 2020 saying they believe the days of high feed-in tariffs are likely over. (hyperlink to their statement)
The commission's pricing director Marcus Crudden says the main benefit of solar panels is avoiding paying retail electricity charges.
"We need to shift the expectation that a feed-in tariff is a big part of the value of having solar power – the real and enduring value of renewable generation and storage is in not having to pay retail electricity charges for the electricity you use.
"Conservative estimates say installing solar panels will save a typical household around $890 per annum off their electricity bill," he said.
We believe solar is still worthwhile and we hope you do too - for the environment and for your wallet. For tips on how to get the maximum benefit, see our article ' Why solar is still a great fit for your home energy."