An 'edible garden' at Barwon Heads Primary School, south of Geelong, is teaching kids about food and sustainability – and a new irrigation system means there'll be plenty more to learn in the year ahead.
Tucked away in a corner of Barwon Heads Primary School's grounds is a feast for the senses: a collection of more than a dozen garden boxes teeming with vegetables and other plants. This 'edible garden', as it's affectionately known, is full to the brim with bright colours, fantastic shapes and – most excitingly – delicious flavours.
"It's quite the collection at the moment," says teacher John Burdess, who oversees the project at the school, located south of Geelong in Victoria. "We have herbs, a lot of different mint varieties, cucumbers and a good selection of tomatoes. There are also some really large pumpkins, sweet corn and green beans growing vertically on tepees."
Lessons in sustainability
Burdess, a keen horticulturalist, began developing the edible garden last year with strong support from the school's staff and families and local residents – but it wasn't until Barwon Heads PS received a Community Grant and was able to purchase rainwater tanks and an irrigation system that the project really took off.
"Teaching the kids about being environmentally friendly was really important to the school, so one of our top priorities was to start harvesting our own rainwater rather than relying on town water," Burdess says.
With the tanks now in place, Burdess says he's begun to teach the kids about the sustainable use of water. And the irrigation system provides reliable watering, even when the garden is unattended, which Burdess hopes will lead to bumper crops throughout the year.
A couple of unusual new additions have already begun to bear fruit. "We've got some strange vegetables," Burdess says. "Something called cucuzza [Italian squash] and a tromboncino [also a squash], two vegetables that I'd never heard of. They grow really large, which obviously is a treat for the kids: we measured one of them today and it was 1.25 metres."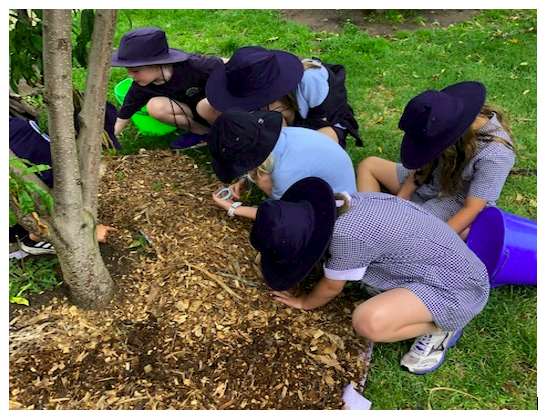 Helping kids shine
Last year, Burdess was teaching grade 2 and mainly involved his own students in the garden, but this year, he and his colleagues hope to invite all the students to tend to the plants. Some Grade 6 students have been named Environmental Leaders and given special responsibilities.
Burdess says he hopes the garden will encourage participation from kids who may not feel completely comfortable in classroom settings. "Everyone enjoys being out in the garden but there are certain kids who really flourish, showing lots of interest and really wanting to be involved," he says. "It gives those kids a good opportunity to show their strengths away from the classroom and in a more hands-on way."
Vegetables for the community
The school has already begun distributing its vegetables as thank-you gifts to the local community members who helped Burdess construct the garden. The kids have started cooking with the produce, too. "Last year we cooked a chocolate and beetroot cake, and we also made dip. This season, there'll be lots of tomatoes, so we might make some passata. And we've talked about making some gnocchi – but that might be a bit too ambitious!"
Applications for EnergyAustralia's 2019 Community Grants will be accepted between 1 March and 29 March 2019. Visit https://www.energyaustralia.com.au/about-us/sustainability/our-community/geelong-community-grants for more information.