Despite electricity being discovered in the 1700s, almost 20 per cent of the world's population live without reliable access to it. But in some sub-Saharan African nations, this figure is closer to 97 percent[*]. Innovations in solar energy are changing this for the better, with one company leading the charge.
Social enterprise Little Sun was founded in 2012 as a partnership between artist Olafur Eliasson and engineer Frederik Ottesen. The duo is passionate about using Africa's largest natural resource to bring light to disadvantaged communities. Their first innovation – a small solar lamp – brought them widespread attention, and they've now reached over one million individuals.
The Little Sun is a lamp with built-in solar panels. The lamps charge during the day and provide enough efficient LED light to last a few hours. For the first time, students and workers are able to curb their reliance on sunlight and continue to work when the sun goes down.
Due to these conditions, activities we take for granted in Australia are often difficult and, in some cases, impossible for those in sub-Saharan Africa. People must confine their work and study to the time between sunrise and sunset. Due to constraints around electricity, the productivity of these communities is lagging behind world standards.
The Little Sun Solar Lamp revolutionised the way electricity was produced and consumed on a grassroots level in rural Africa. With the popular one-for-one social enterprise model, millions of lamps have been provided to communities across the continent.
Little Sun have now taken it one step further, with the launch of their Little Sun Charge. With double the power and capabilities of the original lamp, this product allows people to charge phones, MP3 players and e-readers, as well as provide strong and reliable LED lighting for several hours. The Little Sun Charge looks similar to an external hard drive and is easily attached to a backpack.
This is particularly useful, as even though much of the region is without reliable electricity, mobile phone saturation is on par with developed countries. Mobile phones have resulted in an explosion of learning and business opportunities. The problem here is that although access to mobile phones is high, access to reliable electricity to charge them is not. People will often travel up to three hours to utilise expensive charging kiosks in major regional centres so they can communicate with family, make mobile payments and browse the web. By harnessing the solar, the Little Sun Charge is further empowering communities to grow.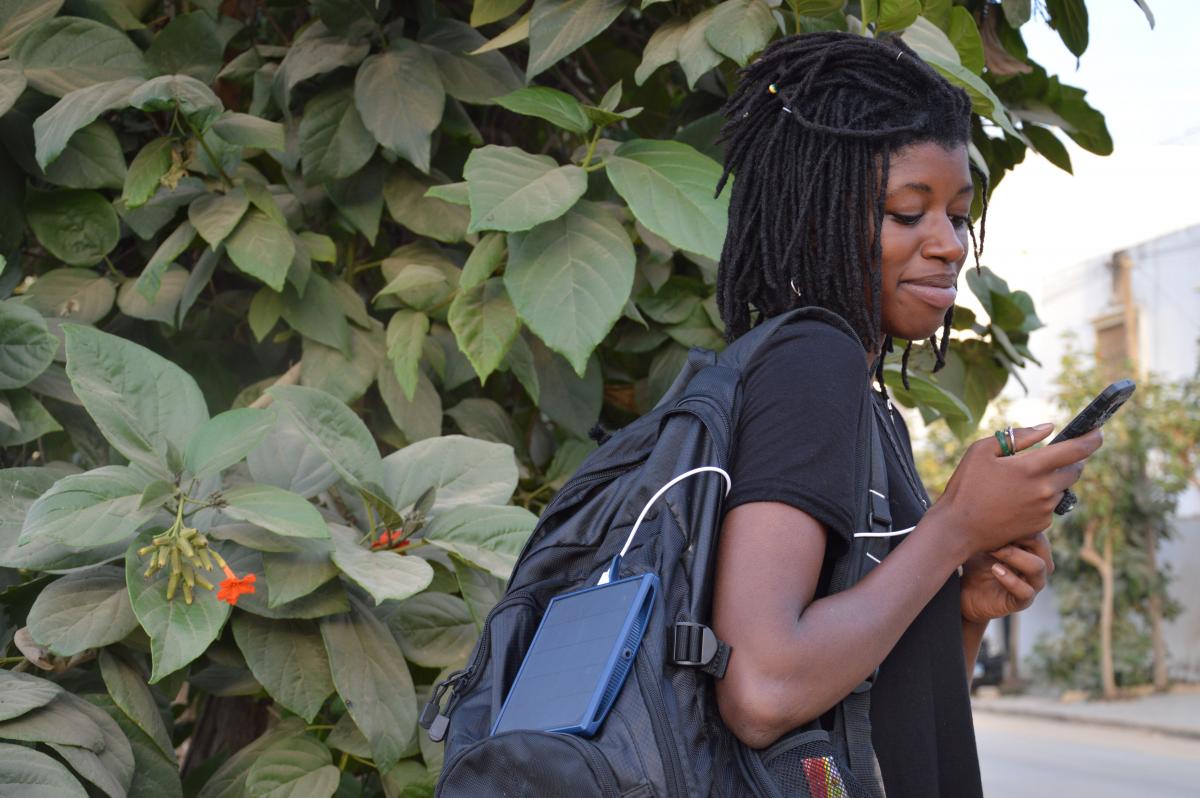 Often used by school children, The Little Sun Charge packs charge throughout the day. The long walk to school and any time outside helps power the light which can be used for extra study during the evening. And it's having an immediate impact, with those using the Little Sun Charge experiencing improved grades.
Other social enterprises are utilising similar technology to make a difference. Rethaka and Soular are producing backpacks with built-in solar panels which, when attached to specially made LED lamps, can light a house all night.
Prior to the innovations in solar electricity, many turned to candles and kerosene-light lamps. However, these not only pose a great threat to the environment, but a night of breathing toxic kerosene emissions is equivalent to smoking two packs of cigarettes. With aging grid infrastructure and little investment in its update, it is unlikely Africa will have universal, 24 hour power until 2080. This is particularly true for small rural communities who are unlikely to see a change anytime soon, but even urban areas suffer regular outages. But these and many more solar products are helping Africans connect, learn and live better lives, without the need for a traditional grid.
Solar power is opening up new possibilities for energy all over the world. Here in Australia, with our abundance of this natural resource, why not see what a difference solar power can make at your place.
Read more about how solar power is making lives better around the world.