When you're doing up a room in your home - be it mini makeover or full reno - it's a great time to incorporate appliances and design elements that can help make you more energy efficient.
When Karlie Brigante won $30,000 to makeover a room in her home, it was her brown, rustic kitchen full of malfunctioning appliances that had to change. The kitchen may be the heart of the home, but constantly in use, it's also one of the biggest energy burners.
Karlie knew the style kitchen she wanted. The first step of the transformation was removing the dark floor to ceiling cupboards and introducing white walls.
Painting a room white is an easy way to lighten the space as it reflects any natural light in the room and this has the added benefit of reducing your reliance on using lighting.  Adding to this was a polish of the existing floorboards to further maximise natural light.
New down lights also helped light the room. For these, Karlie chose LEDs which use less energy to provide the same amount of light as other forms of lighting, making them cheaper to run.
Karlie took this opportunity to combine style with functionality.  The oven previously sat within an old fireplace with no way to remove fumes. This meant a trip outside to fry any smelly foods like sausages. Now, Karlie has an extractor fan (complete with energy efficient LED lights), making stovetop cooking much easier.
The only heat source had been the old wood burner which required the boys traipsing firewood though the house to get it started. In the makeover, this was removed and replaced with a reverse cycle air conditioner to regulate the temperature – and make for less debris in the house!
With the log burner gone, it freed up space to extend the bench and incorporate a breakfast bar.  This has turned the kitchen into a hub where the boys can sit and do homework while Karlie is preparing meals.
The breakfast bar also created additional storage space which was needed after the removal of the overhead cupboards. Like the rest of the fit out, it has soft closing doors and drawers to stop any small fingers getting jammed. And, with a stone bench top, it's ready to handle the wear and tear of the young family.
With a new kitchen comes new appliances.  These don't just make a difference to the aesthetic but generally run as efficiently as possible, so they don't cost more than they should.  This is essential in the kitchen where fridges and freezers run day and night.
With a full house, Karlie needed a large fridge but still considered her efficiency by opting for a French door style so the family can open one smaller door to grab out popular essentials like milk, minimising the amount of cool air released and saving energy.
Before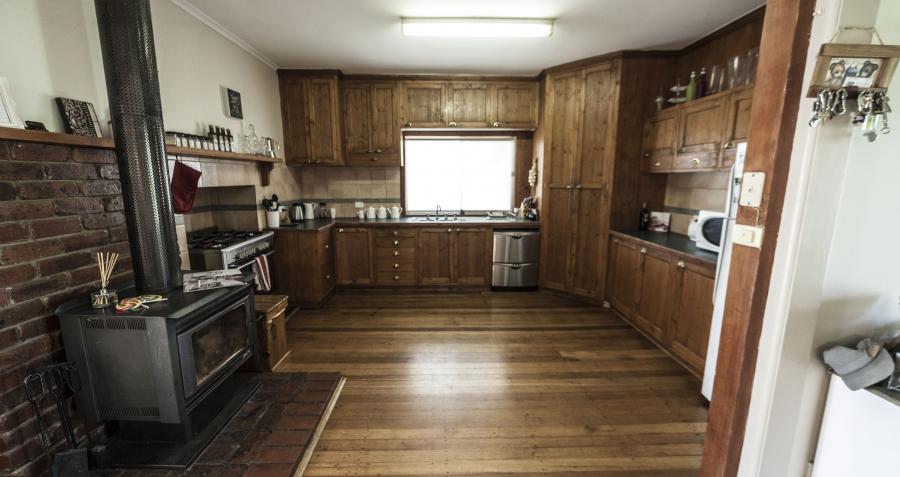 After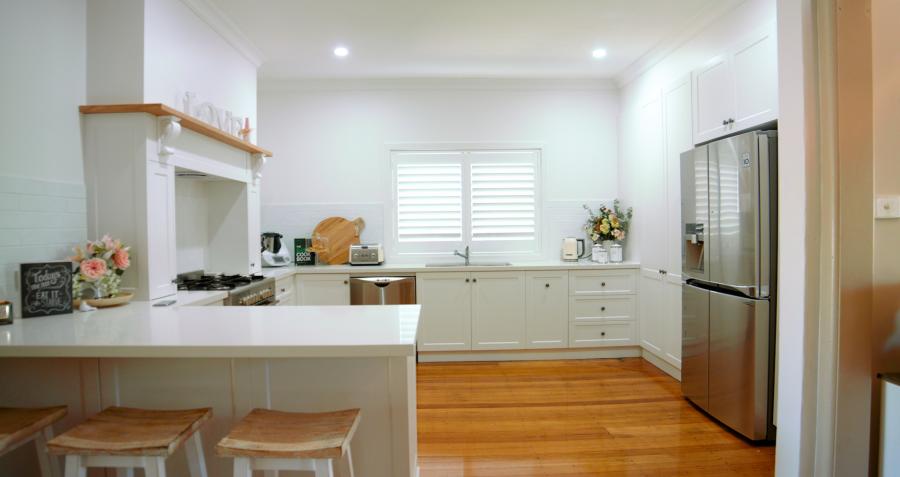 Thanks to local tradies, stylist Katrina Chambers and her family, Karlie was able to create a space that combines style, functionality and efficiency.  And, we were thrilled to play a part in helping make her dream kitchen a reality.
See the full story here: