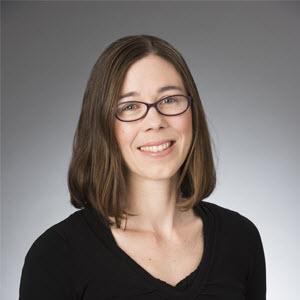 Kerryn Graham
Head of Planning and Reporting
My take on leadership is quite simple – you cannot be a true leader unless there are people that want to follow you. 
People won't want to follow you because you have the word "leader" in your title, or because you have a performance review conversation with them twice a year. People want to follow someone inspirational and passionate about what it is they're doing, someone with a cause bigger than themselves, and someone who cares about people.  At least, that's who I want to follow!
In my own career, whilst I strive to be this ideal leader (and it's the trying that counts isn't it?), I have most of all have aimed to be myself. I think people can easily see when you're not genuine. It's much easier to create connections with others and an environment where team members are supported by each other when everyone feels they can be themselves and a valued team member just as they are.  I think it's in this sort of environment that each of us will do our best work and, as a team, achieve the best outcome possible – everyone wins.
One of the great things about EnergyAustralia is that the leadership courses on offer align with my philosophy on leadership. I was in the first cohort of INSPIRE, a fantastic program which isn't your typical  one or two-day leadership course – inspiring you in the moment, but all is forgotten when you're back at work and too busy to incorporate it into day-to-day life. Instead, the course ran for nine months and involved 1:1 coaching over that period, as well as off-sites where the facilitators encouraged us to step outside of our comfort zones, to trust each other, and to lead together.  
The impact the program has had on my leadership approach has been considerable.  I felt encouraged to lead authentically and came away with much more confidence in my leadership style as it is today, without feeling the need to be someone I'm not.  
This confidence has translated in small ways, like how I approach conversations with peers, team members or managers.  And also in bigger ways, where I feel I've been able to step up and contribute to shaping the culture of the organisation. For instance, volunteering to re-establish a women's network – which we did this year – with the aim of supporting women at all levels of the organisation while also contributing to the business's broader diversity and inclusion objective of building an inclusive culture where we can all bring our whole selves to work.
My advice for anyone looking to move into leadership:  I would put it to you that each and every one of us has the capacity to lead others no matter what role our roles are.  Be passionate, listen to and care for others, and be yourself – everything else will follow from there! 
Kerryn joined EnergyAustralia in 2006. Hired as Market Risk Manager, Kerryn was offered opportunities to expand her career in Risk, head up an improvement program in the Retail business unit, as well as business partnering roles for Retail and Energy, and most recently heading up the Planning & Reporting Function at EnergyAustralia.