Spotting a good energy deal is getting a whole lot easier, and you won't need a spread sheet and a calculator to understand the offers.
It's no easy feat trying to understand the complexities of your energy plan, let alone trying to figure out how you can save money.
This means many consumers tend to accept the plan they're on whether or not it's the best one for them.
Industry bodies, regulators and the government have been calling for a fairer and more transparent energy industry for some time. The good news is that Australia's energy retailers are heeding the call for change.
As a result, from today, EnergyAustralia will be introducing simpler and fairer plans to counteract some of the common customer pain points, says Mark Collette, EnergyAustralia's head of customer business.
"We're committed to straightening out the confusion customers are experiencing. So, from today it will be a lot easier for EnergyAustralia customers to spot a good deal and save money on their power bills," says Collette.
 
How EnergyAustralia plans are changing
To help make customer plans simpler, fairer and more affordable EnergyAustralia is introducing a range of changes to its products. These include:
The introduction of fixed prices

for the term of contracts so that customers know exactly what they're paying for over time – and no exit fees

Removing conditional discounts

like pay-on-time discounts

Reducing of the number of plans

from five to an easier-to-understand three

Introducing discounts off the entire energy bill

(usage rates and supply charges) rather than off usage rates

Standardising guidelines for energy comparison services

so customers can make easier choices
Additionally, New South Wales, South-East Queensland, Victoria and South Australian customers whose energy plans are subject to old standing-offer rates (see explanation below) can take advantage of more affordable new default offer rates that will save them hundreds of dollars on their yearly energy bills.
EnergyAustralia is automatically moving 173,000 of its customers on standing-offer rates to new default rates and contacting about 450,000 other customers to tell them about new simpler and fairer offers that could see them saving hundreds of dollars a year.
Already, since May this year, 43,000 customers have moved to more affordable energy plans with majority making the switch online. "If you get a call or email from EnergyAustralia urging you to think about moving to a better offer, be sure to answer it or reply because five minutes of your time could save you money," says Collette.
NO CATCH DISCOUNTS 
"Pay on time" discounts have been the most common discounts offered by energy providers, with sizable reductions of up to 43% off.
But the catch? Your discount only applies to a portion of the bill and payment needs to be punctual otherwise you won't claim the discount.
"We're making discounts easier to understand and fairer. What this means is you will receive a discount every time, regardless of whether you pay your bill on time or a day late, and the discount will apply to your whole energy bill," says Collette. 
"Another change a customer will notice is the size of energy discount offers will be smaller than the 20-40 per cent discounts that have been advertised this last few years.
"From today, energy retailers need to tell you how much more or less their offer is than the DMO and VDO," says Collette.
"The size of the discount is no longer the cue to determine if you're on a good deal."
This table presents an example of how a high discount doesn't mean a bigger saving.
The figures are based on the average annual electricity usage (4000 kWh) of a residential customer in the AusNet distribution zone on a flat tariff.
It shows that the customer's annual bill would drop from $1610 on Flexi Saver to $1421 on Total Plan. The discount will also change from 25 per cent off their usage costs to 7 per cent off their total energy bill (which is also 7% off the reference price).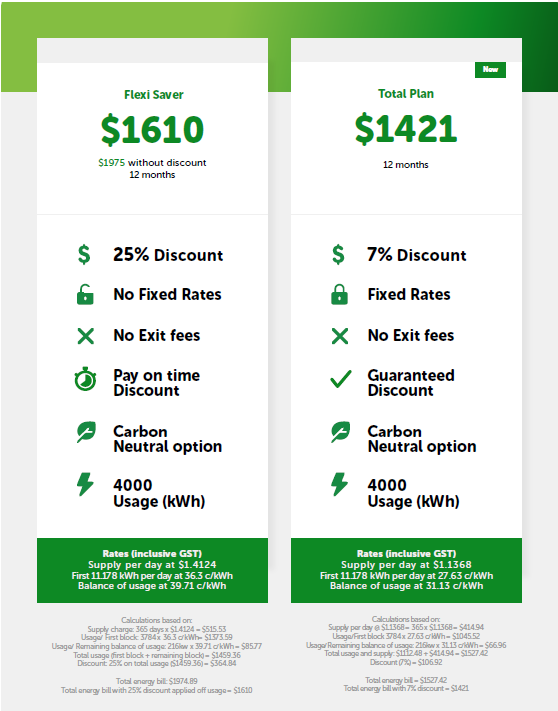 So what's a standing offer rate and why does it need to change?
Currently, there are two types of offers: 'market offers' and 'standing offers'. If, for example, you move house and don't sign up to a competitive market offer with a retailer, you end up on a standing offer, which is essentially meant to make sure that when you move in, your electricity is on and you have access to a basic service until you move to a market offer.

However, many people never moved on from these standing offers, and are paying more than they need to for power.

So, in a move to reduce the cost of energy for consumers, the Federal Government announced in April it would introduce a Default Market Offer (DMO), thereby setting a maximum default price that energy retailers can set for electricity in a region. The Victorian government is also implementing a similar scheme for a Victorian Default Offer (VDO).
From July 1, the DMO and VMO will replace the more expensive standing-offer rates.
 
How will I benefit from the changes?
If you are an EnergyAustralia customer still on an old standing offer and move to a default offer, here's how much you could save over a 12-month period*:
Victoria: $487

[2]

Queensland: $173

[3]

South Australia: $345

[4]

 
In 2018, EnergyAustralia committed to $70 million worth of measures to help reduce electricity price rises for families and vulnerable customers.
"We think these are big changes that will save people money and make it a lot easier spot a good deal. But the true test is not what the energy companies think – it's whether customers themselves can say that energy is simpler and fairer," says Collette.
To find out more about the changes to EnergyAustralia plans visit: Default Market Offer: www.energyaustralia.com.au/dmo
Victorian Default Offer: www.energyaustralia.com.au/vic-changes
Things you should know:
[1] Based on 3.9 MWh annual electricity use in Ausgrid distribution zone on a flat tariff, post July 1
[2] Based on 4.0 MWh annual electricity use in AusNet distribution zone on a flat tariff, post July 1
[3] Based on 4.6 MWh annual electricity use in Energex distribution zone on a flat tariff, post July 1
[4] Based on 4.0 MWh annual electricity use on a flat tariff, post July 1