We understand that when you're making the move interstate, your energy supply is just one part of a bigger picture. To help make the move to your new state as easy as possible, we've put together this guide. If you're thinking of buying a house or renting in NSW, here's all you need to know about New South Wales in one handy place.
New South Wales State Map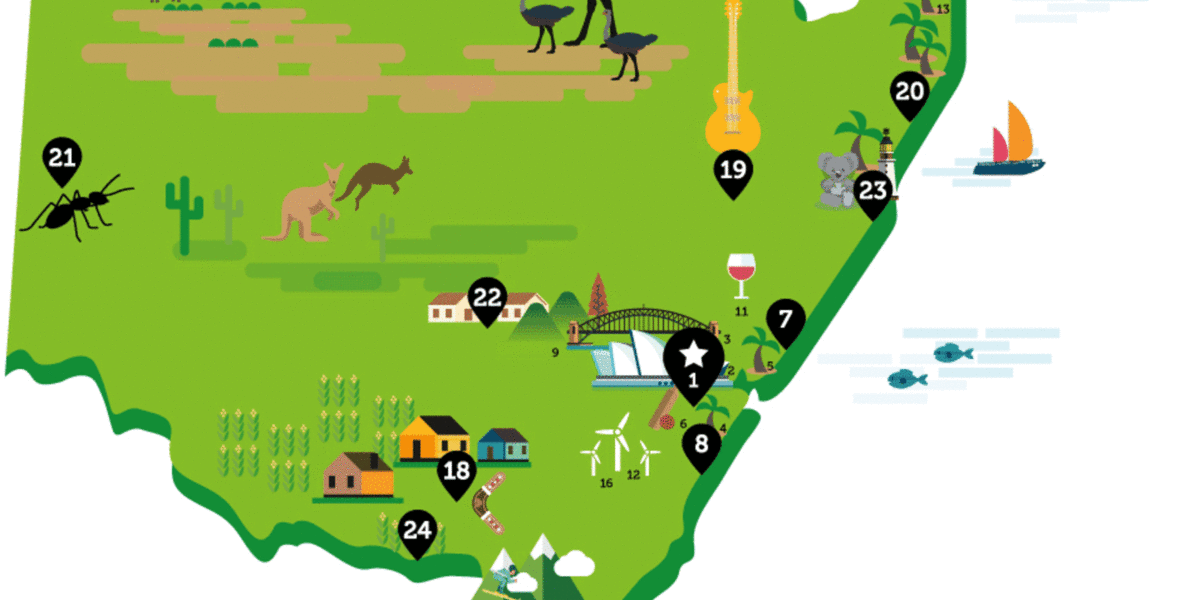 1. Sydney
2. Sydney Opera House
3. Sydney Harbour Bridge
4. Bondi Beach
5. Manly Beach
6. Sydney Cricket Ground
7. Newcastle
8. Wollongong
9. Blue Mountains
10. Snowy Mountains
11. Hunter Valley Wine Region
12. Taralga Wind Farms
13. Byron Bay
14. Boco Rock Wind Farm
15. Kosciuszko National Park
16. Gullen Range Wind Farm
17. Thredbo Ski Town
18. Wagga Wagga
19. The Big Golden Guitar
20. Coffs Harbour
21. Broken Hill
22. Bathhurst
23. Port Macquarie
New South Wales State Guide
New South Wales (NSW) is Australia's most populous state and home to the country's biggest city, the cosmopolitan and financial hub of Sydney. Like Sydney, many of the state's bigger urban centres are coastal and share their seaside real estate with long surfing beaches and a plethora of national parks. Further inland, you'll find the regional cities of the heartland and the Great Dividing Range, encompassing the rugged Blue Mountains and the white peaks of the Snowy Mountains. Further west again, and you meet the vast expanse of the outback, dotted here and there with mining towns.
Get the lowdown on some of New South Wales' key points below.
New South Wales Fact Box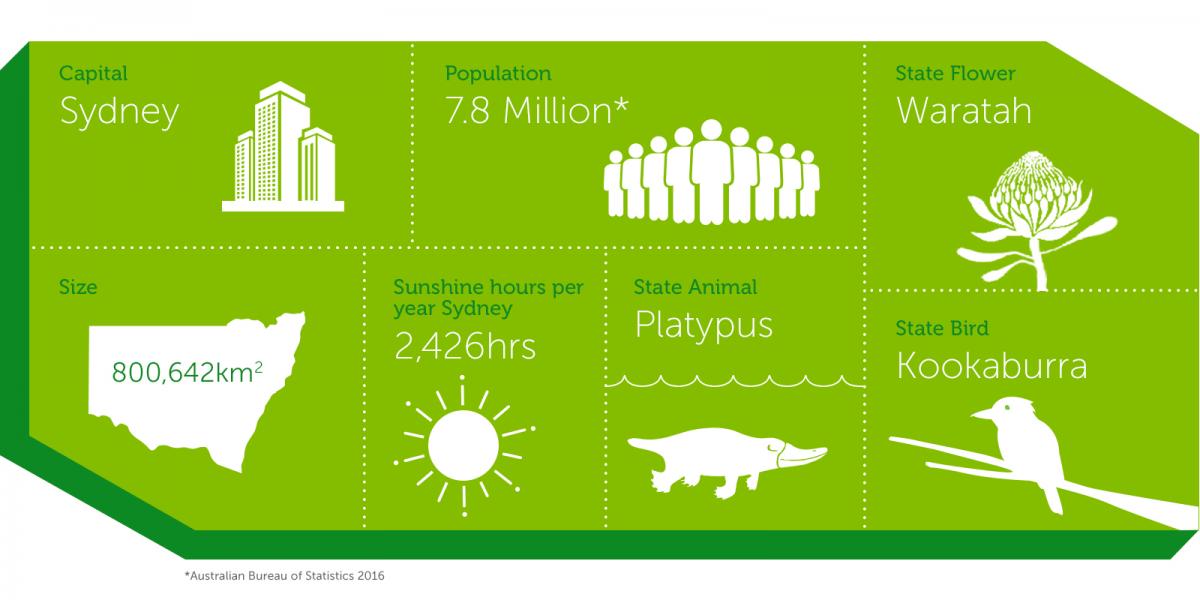 New South Wales Cities
Two-thirds of the state's population lives in Sydney, Australia's biggest city. The 10 biggest cities and regions in New South Wales by population are:
Sydney
Newcastle
Central coast
Wollongong
Maitland
Tweed Heads
Wagga Wagga
Albury
New South Wales Weather
Famous for its blue skies and sunshine, New South Wales overall enjoys a sunny climate with mild winters and hot summers. There are, of course, some rather large differences between different regions, and the general rule is that it gets hotter the further north you go. It's humid near the Queensland border, arid in the far west and even snowy in the winter in the higher parts of the Great Dividing Range, where Australia's largest snowfields are located.
Transport in New South Wales
New South Wales is connected by a network of trains, light rail, buses, coaches, and ferries, and boasts Australia's largest public transport system. Public transport services use the Opal smartcard ticketing system with smartcards available online, at main stations and in certain shops. Sydney Trains operates within Sydney, while NSW TrainLink operates intercity, country and interstate services.
Nature in New South Wales
The New South Wales coastline stretches for more than 2,000km. Its hundreds of breathtaking beaches are too many to name individually, but mention must be made of Sydney's famous Bondi and Manly beaches; Jervis Bay, which is said to possess the whitest sand in the world, at Hyams Beach; and the pale sands and colourful coral reefs of World Heritage site Lord Howe Island, 600km offshore. Inland, the Great Dividing Range spreads out to the atmospheric Blue Mountains in the north-west and the Snowy Mountains to the south, where the continent's highest mountain, Mount Kosciuszko, can be found. The state counts more than 870 national parks and reserves protecting rainforests, waterfalls, marine areas, bush and outback desert. Other noteworthy natural attractions include but aren't limited to:
- The Royal National Park
- Booderee National Park
- Murramarang National Park
- Wollemi National Park
- Coffs Harbour
- Red Rock Beach
- Greenfield Beach
- Hunter Valley vineyards
- Wellington Caves
- Wollomombi Falls in Oxley Wild Rivers National Park
- Walls of China in Mungo National Park
- Fitzroy Falls in Morton National Park
- Kiama Blowholes
- Wombeyan Caves
- 'The Three Sisters' in the Blue Mountains
New South Wales: What You Need to Know
New South Wales Fun Facts
Moving Checklist
Make sure you're on track for your move to New South Wales with our moving checklist.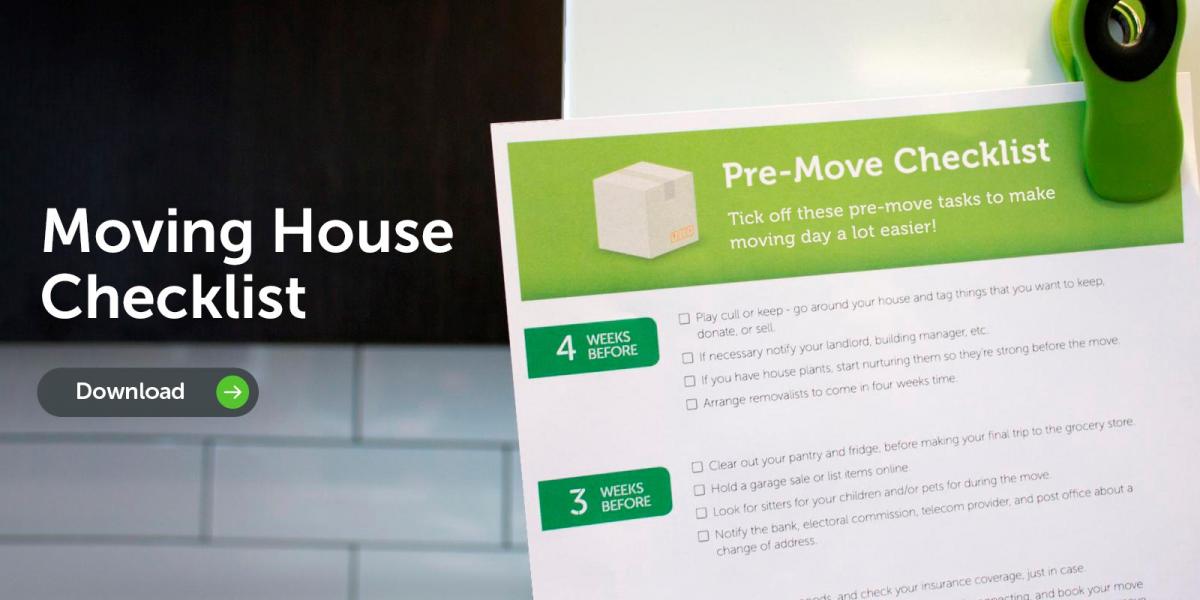 Handy New South Wales Websites

EnergyAustralia, lighting the way to a better energy future. Find out more.