So, you're moving house. Leaving precious belongings in the hands of strangers is incomprehensible for some, while dealing with the nightmare of moving without professional help is just too much for others.
So, what are the pros and cons of each and is there any other option available? Here are some factors to consider when you're moving out.
Do it yourself
Pro: Mucking in as the removalist-in-chief is one of the best ways to save money on moving costs.
Just ask Jorgia Brown from St Kilda East in Melbourne, who has moved home 20 times. "Our family had a trailer, so we'd get together and pitch in and load it up," Brown says. "It definitely helps you save hundreds on the cost of professional movers if you know someone with a truck, trailer or van." Sourcing things like cheap moving boxes and packing supplies is another great way to save money.
Con: It may take more time.
Time lost organising and moving house yourself can mean money down the drain, especially if your income relies on your availability. You should also consider any services or memberships – like a gym membership – that you may be temporarily unable to use: that will be money down the gurgler, too.
Pro: Moving can be a bonding experience.
Letting people help you move can bring you closer together, Brown says. "Asking people to help out with what is a really crucial part of your life can break the ice," she says. "Just don't overstretch the relationships by asking for help too much."
Con: There's no insurance cover if you or a mate breaks something.
Your household insurance probably won't cover goods in transit, so if you break items, remember that you'll be shelling out for the replacement. You could take out transit insurance, but that will be another cost.
Pro: You're in control of the timing.
You can do the entire move in a day or gradually transplant your life into your new home over the course of a week – it's your choice. "The same goes for packing," says relocation expert Kylie Bevan. "You can start packing one week before, or one month before … whatever's easiest for you."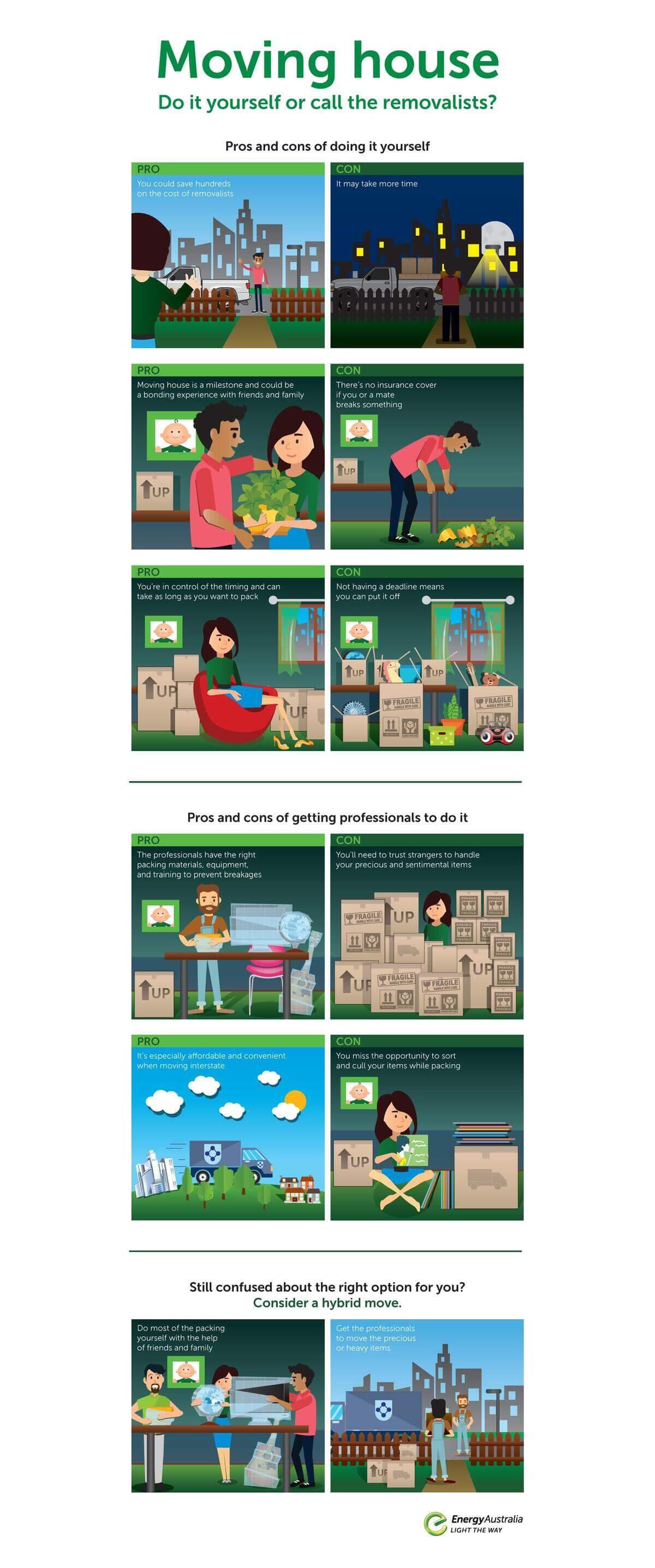 Get professional movers to do it
Pro: Professional moving companies have the right equipment and training.
Different items require different packing materials, and heavy objects need proper lifting or straps to secure them, says Linda Eagleton, owner of professional organiser firm Creative Surrounds. "Professional movers who know exactly the way things should be done can avoid breakage and injury," she says.
Con: You have less control of handling.
Letting the professionals handle your precious items is an exercise in trust. Even if you know your removalist's insurance covers the cost of that collectible porcelain poodle your grandma gave you for your 21st birthday, nothing can replace its sentimental value.
Pro: It is especially affordable and convenient for moving interstate.
Hiring a firm that can pack your belongings in moving boxes, store them at a warehouse then deliver and unpack them at the destination is a lifesaver for interstate moves, says Brown. "It costs far too much to move all your belongings interstate yourself," she says. "This saves you time and money and avoids you double handling your items in transit."
Con: You can't sort your items.
Hiring professionals to pack boxes means you may have to relinquish the opportunity to go through all your long-forgotten possessions and do a spring clean before you box them up. "If people are packing your moving boxes, it's harder to put items like home accessories in piles and decide whether to keep them," says Bevan.
The hybrid move
Still confused as to the right option for you? There's always the option of combining both personal and professional to suit your time and budget requirements, Eagleton says.
"You might like to do most of the packing yourself, ask for help from family of friends, and just get professional movers to move the precious or heavy items," she says. "These days there is a moving unpacking service or moving company that can help you personalise every move."