Whether you're moving interstate or just around the corner, relocating is a big deal for your pet. Cats and dogs are territorial, and abruptly changing their environment can result in stress, anxiety and behavioural issues. The good news is, for most pets, their favourite place is with you – wherever that might be. With a bit of consideration and planning, you can help your pet adjust to their new surroundings quickly and safely. Here are some tips.
Before you move
Ensure your new property is adequately fenced. Search for any possible escape routes (such as under a gate) and make sure the layout of the house is appropriate for your pets' needs (it's important they have shelter and somewhere to keep cool in summer and warm in winter.)

Check in with a local vet to see if your pet has any specific needs that should be addressed before the move. For example, the area you're moving to may be more prone to ticks and it might be worth starting a tick-preventative treatment.

There are lots of people who need to know when you move. Make sure you inform your new local council about your pet and update ID tags and microchip details.

If you're moving interstate, you'll need to book animal transport. If your pet is flying, you'll need to make sure your crate/container complies with the airline's requirements. You may also need a certificate from your vet stating their suitability for air travel.




 

On the day
Arrange for someone to look after your pet while the contents of the house are being loaded onto the truck. This will minimise their distress and you won't risk them sneaking out as furniture is being carried through doors and gates.

Ensure your pet is adequately restrained in a crate or harness for the journey. Remember that it's illegal – and dangerous – to travel with an unrestrained pet in most Australian states and territories.

Take your pet's favourite things with you. While it might be tempting to buy a new bed and toys for the new house, keeping items they're familiar with will help your pet feel at ease in an unfamiliar environment.

Make sure you know where your pet's food and water bowl is and offer them a drink – and maybe even a treat – when they arrive at their new home.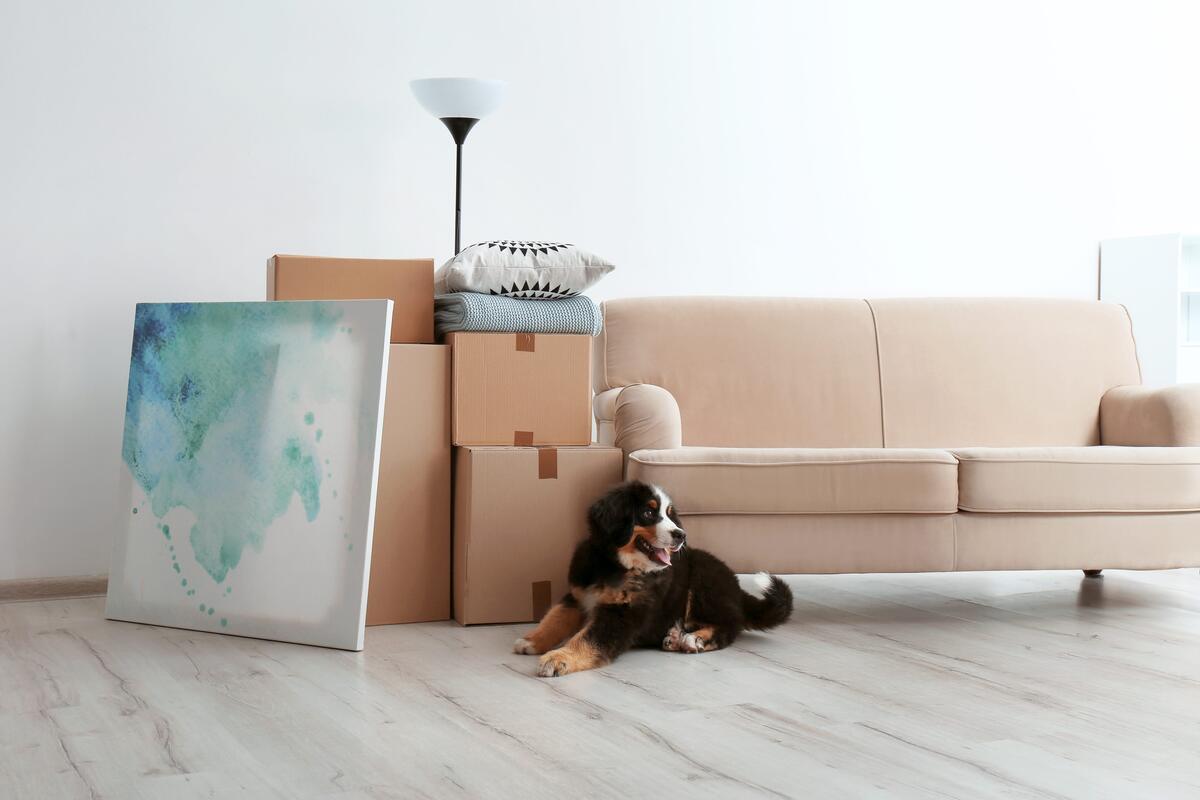 Settling in
If you have a dog, take it for a walk when you arrive at the new house so it can sniff out their new surroundings.

If you have a cat, it's a good idea to leave it inside for the first few days at least. Make sure it knows where the new litter box position is.

Pheromone sprays such as Feliway for cats and Adaptil for dogs can help to calm anxious pets.

Try not to leave your pet home alone straight away – they might get anxious and destructive, and no one wants a scratched back door, shredded lounge or dug-up garden in their brand-new house.


 
Let us worry about connecting and disconnecting your electricity and gas so you have more time to play with your furry family members.
Moving house with kids? Read our tips here