Getting the temperature right goes a long way towards your baby having a good night's sleep – and parents can then rest easy too, no matter the weather outside.
Similar to Goldilocks' 'just right' philosophy, keeping babies and infants at a comfortable 'not too hot, not too cold' temperature is also important from a safety perspective. According to research and advocacy organisation Red Nose, thermal stress (overheating) is implicated in sudden infant death syndrome (SIDS) so it is an important preventive strategy.
Here's some tips to getting the temperature right:
Keep your baby's head uncovered
Babies regulate their temperature mainly through their face and head, so the best way to stop them overheating is to ensure they sleep on their back, with their head and face uncovered. This means no hats, bonnets, beanies, hooded clothing, pillows or doonas, and not putting them down to bed on their tummies. Red Nose recommends positioning your bub with their feet at the bottom of the cot and using lightweight blankets that only reach as far as the chest, tucked in firmly so they can't come loose.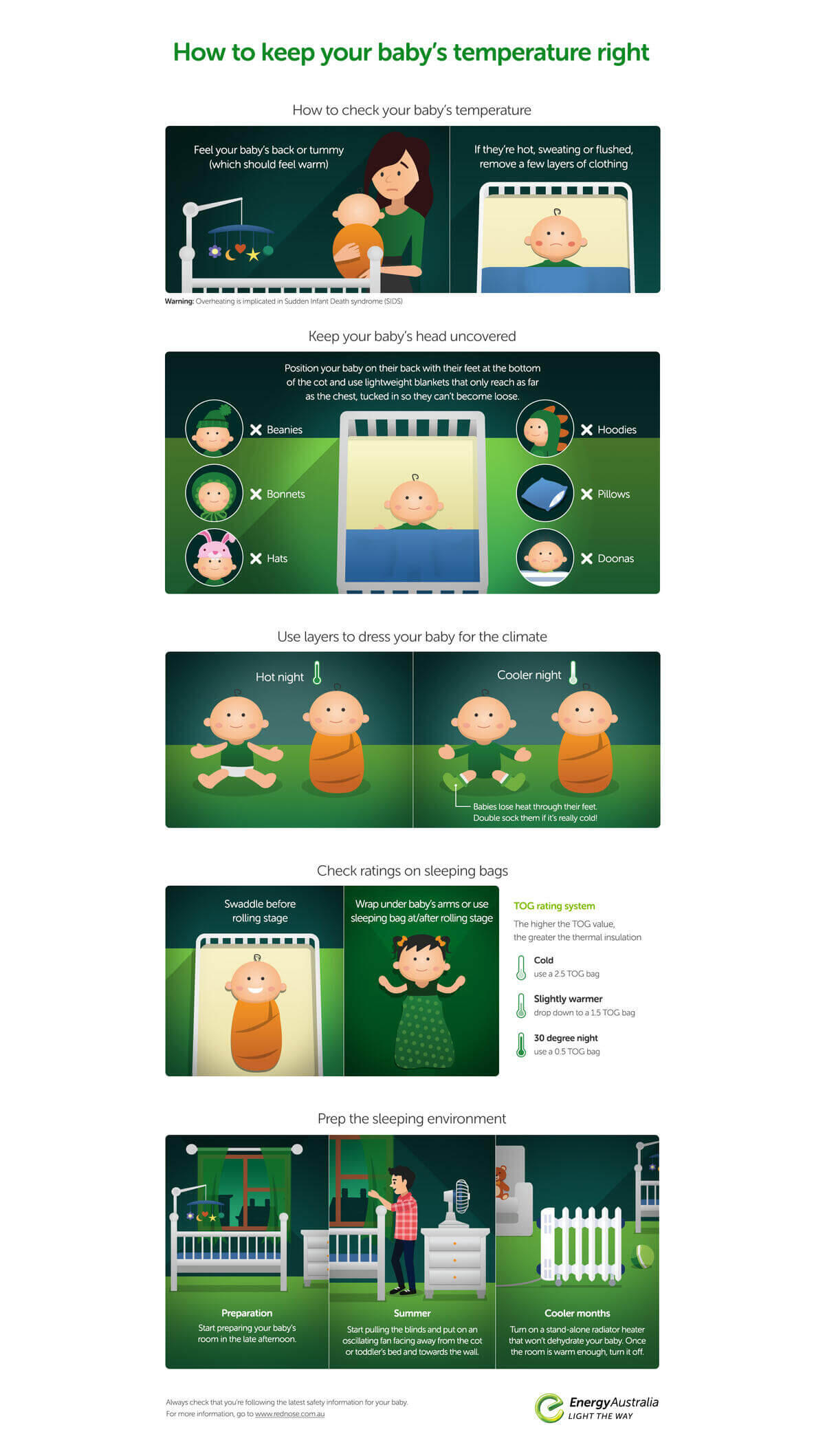 Dress your baby for the conditions
When working out how many layers to dress your baby in at bedtime, use layers as you'd dress yourself.
Very young babies are 'swaddled', the ancient method for wrapping newborns in a thin blanket or cloth – think baby 'burrito'.
If your baby's in the swaddling phase, put them in a singlet and then swaddle. For cooler nights, go with a sleeveless body suit with a long-sleeved growsuit over the top, then a swaddle.
Check ratings on sleeping bags
Babies are usually swaddled with their arms tucked in until they're about three months old. At this point you can wrap your baby keeping their arms free, or start using sleeping bags that are designed to keep babies and toddlers at a comfortable temperature for the conditions, and remove the need for bedding or heating appliances.
Most sleeping bags use the thermal overall grade or TOG rating system: the higher the TOG value, the greater the thermal insulation.
Prep the sleeping environment
The late afternoon is a good time to prepare a child's bedroom for bedtime. If it's a hot summer's day, draw the curtains or blinds around 4.30pm and you could also put an oscillating fan on that faces away from the cot or toddler's bed and towards the wall, so that the room is comfortable when they're going to bed.
In the cooler months, you might want to switch on a heater in the late afternoon so your child's bedroom is cosy in time for bedtime. Position heater away from bedding or any flammables, and turn it off at bedtime.
Remember to never use electric blankets, wheat bags, heat packs or hot water bottles for babies.
There's no perfect solution to keeping your baby sleeping through the night, but with a little preparation and some simple strategies, you'll be able to give both you and your bub the best chance of catching valuable shuteye.
Always check that you're following the latest safety information for your baby.
For more information, go to www.rednose.com.au