While you're unpacking your new home, cooking may be the last thing on your mind. If you are not in the mood for take away,  our mover's minestrone and one-dish chicken and chorizo bake can be cooked with little effort and even less equipment. Don't worry about hunting through all those boxes to find your entire kitchen set, we've got two healthy and hearty dishes that needs nothing more than one pot or tray, a knife, and a spoon.
ONE-DISH CHICKEN AND CHORIZO BAKE
Serves 4
Ingredients
4 chicken marylands
1 chorizo, sliced
2 garlic cloves, finely diced
1 Spanish onion, thinly sliced
150g button mushrooms, sliced
1 red capsicum, deseeded and cut into strips
450g can diced tomatoes
½ cup red wine
good handful of Sicilian green olives
2-3 fresh bay leaves
3 tbsp extra-virgin olive oil
sea salt flakes and freshly ground black pepper, to season
 
To serve
thyme sprigs
crusty bread
Method
1. Preheat the oven to 200°C.
2. Place all of the ingredients in a large baking tray. With your hands, gently mix so that the ingredients are evenly distributed and coated with olive oil. Ensure the chicken is skin-side up.
3. Bake for 75 minutes, or until a skewer inserted in the chicken runs clear.
4. Remove from oven, sprinkle with thyme sprigs and serve with crusty bread.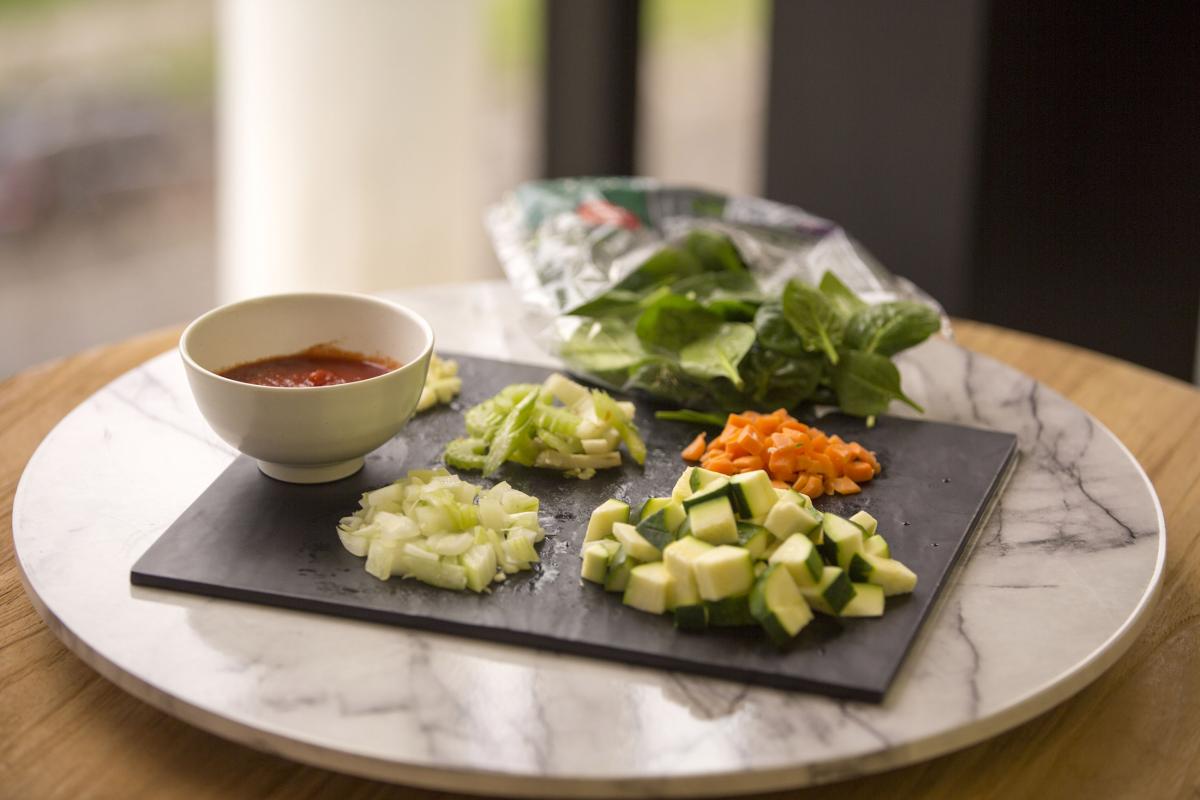 MINESTRONE SOUP
This classic Italian soup is versatile enough to be adapted for anyone's tastes, so it is an easy crowd pleaser for the family. To start, put down your box cutter and simply find a handful of ingredients:
Ingredients
2 tbsp extra-virgin olive oil
2 garlic cloves, finely diced
2 cups white onions, diced
1 zucchini, chopped
3 celery stalks, chopped
2 carrots, chopped
3 cups vegetable stock
450g can red kidney or butter beans, drained
450g can diced tomatoes
2 cups of baby spinach
½ cup pasta of your choice
good handful of parsley and basil to taste
Parmesan to serve
Method
1. In a large pot, stir in and fry chopped onions, garlic, celery and zucchini in olive oil.
2. Stir in diced carrots, tomatoes, and drained beans. 
3. Season with salt, pepper, parsley, and basil to taste. 
4. Stir in vegetable stock, broth and shell pasta. 
5. Add fresh baby spinach, and bring to a boil. 
6. Reduce heat, and simmer for 20 minutes with lid on.
If your freezer is already set up, it's easy to freeze a few serves for future lunches. And if you haven't unpacked the plates yet, you can eat it out of a travel mug. 
To help ensure the lights are on and the fridge is powered when you need it, book your move with us in advance.