We understand that when you're making the move interstate, your energy supply is just one part of a bigger picture. To help make the move to your new state as easy as possible, we've put together this guide. If you're thinking of buying a house or rent a new home in Victoria, here's all you need to know about Victoria in one handy place. 
Victoria state map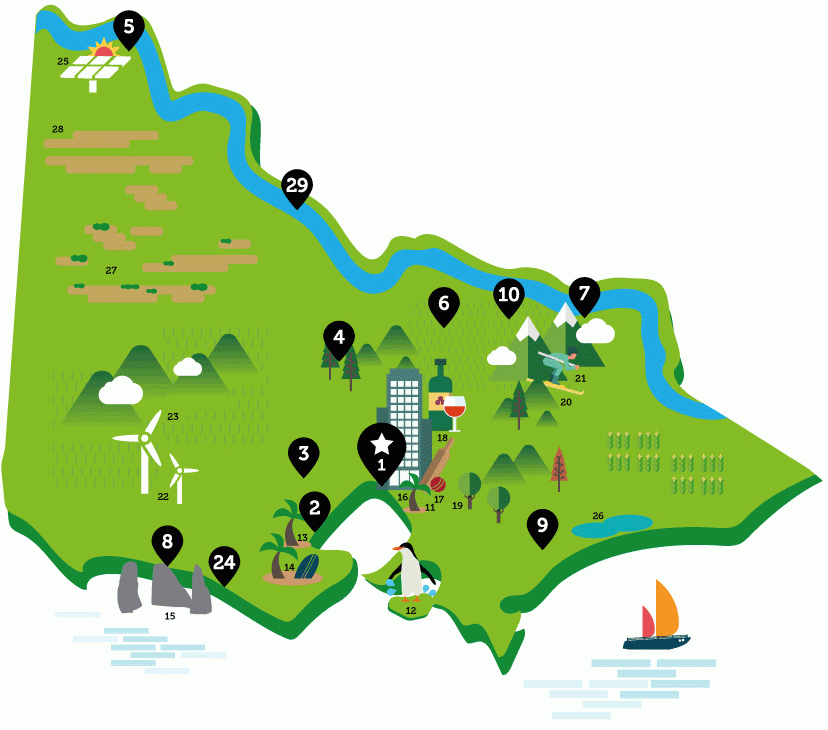 1. Melbourne
2. Geelong
3. Ballarat
4. Bendigo
5. Mildura
6. Shepparton
7. Wodonga
8. Warrnambool
9. Traralgon
10. Wangaratta
11. St Kilda Beach
12. Phillip Island 
13. Geelong Beach
14. Surf Coast
15. The 12 Apostles
16. Eureka Tower
17. The Melbourne Cricket Ground
18. Yarra Valley wineries
19. Dandenong Ranges
20. Great Dividing Range
21. Victoria Alpine Region Skiing
22. Mortons Lane Wind Farm
23. The Grampians
24. Great Ocean Road
25. Mallee Solar Park – EA proposition
26. Gippsland Lakes
27. Little Desert National Park
28. Murray Sunset National Park
29. Murray River
Victoria state guide
Victoria (VIC) may be Australia's smallest mainland state, but this little south-eastern corner is big in both character and characters, with the second highest population density in the country. As the 'sporting capital of Australia', the state boasts the Melbourne Cricket Ground – the spiritual home of Australian cricket – and 10 of the 18 Australian Football League (AFL) clubs. As well as being sports mad, Victorians are known to be progressive and to make a mean cup of coffee.
Get the lowdown on some of Victoria's key points below. 
Victoria fact box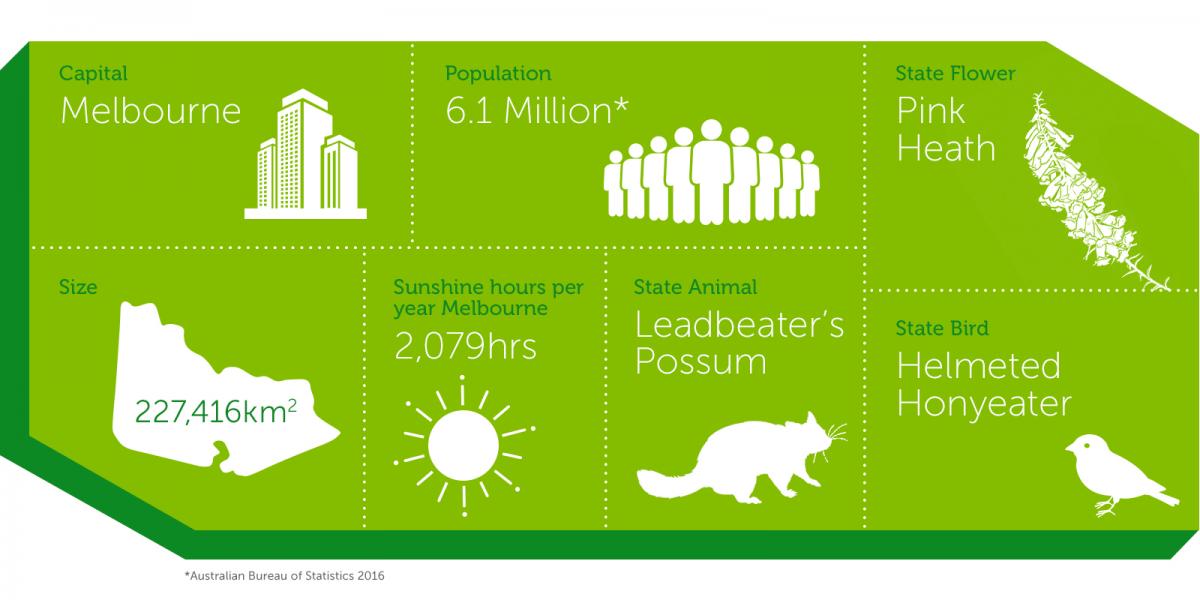 Victoria cities 
Victoria shares the title of Australia's most urbanised state with New South Wales, with nearly 90% of residents living in its cities and towns: 70% of the state's population lives in Melbourne.  The 10 biggest Victorian cities by population are:  
 Melbourne 
Geelong
Ballarat
Bendigo
Mildura
Shepparton
Wodonga
Warrnambool
Traralgon
Wangaratta
Victoria Weather
Despite its small size, Victoria's weather is quite varied. It can be hot and semi-arid in the northwest (Mallee and Upper Wimmera are the warmest), temperate and cool along the coast, and chilly in the Victorian Alps and the central mountains. Its southernmost position on the Australian mainland makes it cooler and wetter than other mainland states, but air from the Southern Ocean ensures that winters are mild and summers bearable. 
Transport in Victoria 
Victoria has an excellent public transport system which includes trains, trams (Melbourne has the largest tram network in the world) and buses. To use public transport in Victoria, you need to buy a Myki travel card in advance. They are available online, at main train and tram stations, and in certain shops. 
Nature in Victoria 
Victoria was once known as the Garden State because of the rolling hills and lush valleys that make it so green compared to other areas of the country. It's surrounded by water on three sides; the northern border is marked by the Murray River and you'll find the Tasman Sea, Bass Strait and the Southern Ocean to the south and east, giving the state more than 2,000km of coastline with hundreds of beaches. There's an abundance of other mighty fine natural attractions, with highlights including:
The Great Ocean Road 
Phillip Island Penguin Parade 
Alpine National Park ski resorts
Port Campbell National Park
Little Desert 
 
Wyperfeld National Park 
The Grampians National Park
Gippsland Lakes
The Dandenong Ranges
Mornington Peninsula and the Yarra Valley wineries 
Victoria: What You Need to Know
Victorian

postcodes

begin with the number 3 
Victoria's

telephone area calling code

is 03
The current

Premier

of Victoria is Daniel Andrews, the leader of the Victorian branch of the Australian Labor Party
Victoria has a couple of unique

public holidays

, both for sporting events: the Melbourne Cup in early November and the Friday before the AFL Grand Final in September on the last Friday in September 
Victoria celebrates

Labour Day

on the second Monday in March 
There are a few

road rules

in Victoria that you won't find in the rest of Australia: 

It's legal to do a U-turn at traffic lights (unless marked otherwise) 

Because of Melbourne's tram system, you sometimes have to turn right from the left lane, known as a

hook turn

 
If you plan on driving on the freeways, you'll need to create a toll road account with

CityLink
Victoria Fun Facts 
Moving Checklist
Make sure you're on track for your move to Victoria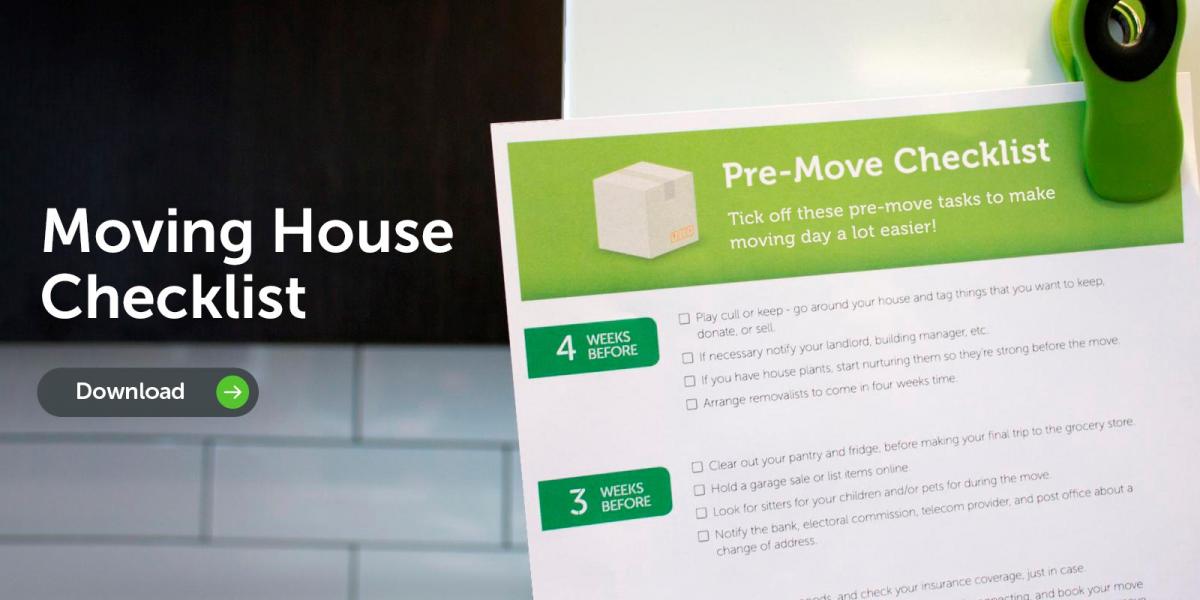 Handy Victorian websites

EnergyAustralia, lighting the way to a better energy future. Find out more.