The pressure cooker is often seen as an old-fashioned kitchen appliance, something your grandmother used way back when to whip up massive stews. You remember it as bulky and noisy, hissing and spitting away on the backburner like an angry cat. But pressure cookers have come a long way since those olden days. Many of today's electric models (Instapots) and stovetop models are sleek, safe, smart, and easy to use. Many also boast multi-functional settings, sophisticated control panels and digital timing technology. Using a pressure cooker can revolutionise the way you cook. Here are five reasons to consider owning one.
1. You'll save time
You can cook your food up to 10 times faster than other methods such as steaming, boiling, braising or simmering. Using a pressure cooker, you can whip up hot pots, risottos, soups, tagines, casseroles and even desserts in 20 minutes or less (check out our 3-Minute Fried Rice, below)! And unlike slow cookers, you don't have to prepare your evening meal first thing in the morning or the night before – you can come home from work, throw all your ingredients into one pot and sit down to eat within half an hour of walking in the door.
2. Your food will retain vitamins, nutrients and flavour
Only a small amount of liquid is needed to generate the steam in a pressure cooker, and that liquid becomes part of the dish, so you're not losing all the good stuff that can evaporate or get diluted via other food-preparation methods. Shorter cooking times also cut down on the loss of food's heat-sensitive nutrients, locking in colour and flavour.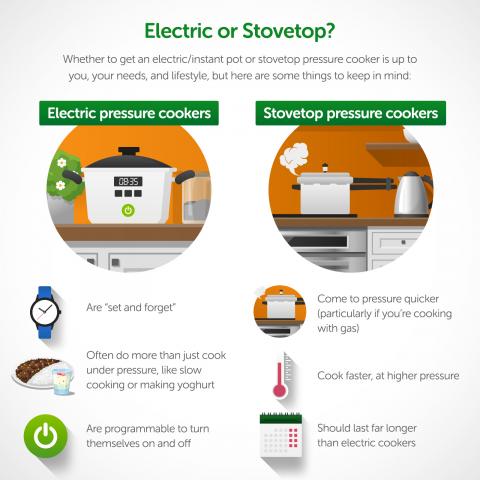 3. You'll use less energy
Because you're cooking in just one pot, you're not using multiple burners at a time to prepare a meal. Plus, less cooking time means less energy used overall. And during the summer months, you'll appreciate how using a pressure cooker generates less heat in the kitchen – meaning you won't have to switch on cooktop fans or air conditioning to cool things down.
4. You'll save money
In addition to lowering your energy bill, a pressure cooker can tenderise even the most stubborn "secondary" (that is, cheaper) cuts of meat – and don't forget, nose-to-tail eating is a huge sustainability trend right now. Low-cost lamb shanks, oxtail and pork shoulder are ideal for creating succulent, falling-off-the-bone dishes in a fraction of the time slow-cooking or roasting would take. Pressure cookers also work wonders with grains, dried beans and legumes that take an eternity to cook from scratch.
5. You'll make your life easier
Think about it – you're using one pot instead of several. Nothing will spill or splatter or boil over. You don't have to time several different elements at once. You've got infinite options for meals of all varieties. And you'll cut down on washing up. What's not to love?
---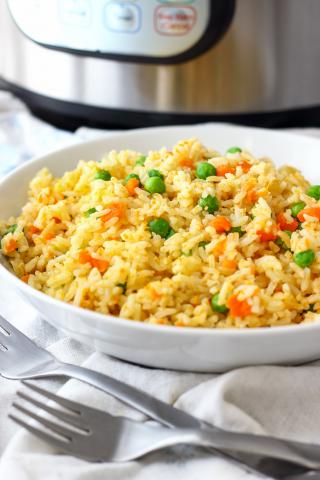 3-Minute Fried Rice
(6 servings)

We have chosen these vegetables to give a nice mixture of colours and textures, but you can ring the changes of this family favourite with different veggies, meat, or seafood. You can even use brown rice – just increase the pressure cooking time to 20 minutes.

Ingredients:
1 tbsp. vegetable oil
1 tsp. minced garlic
1 tsp. minced ginger
2 spring onions, sliced (white and green parts separated)
4 slices short-cut bacon
1 red bell pepper (capsicum), chopped
1 carrot, finely chopped
2 eggs
2 cups basmati or long grain rice, washed and well drained
3 1/2 cups chicken stock or water, boiling*
1 tbsp. soy sauce, plus extra to serve
1 tsp. sesame oil
1/2 cup frozen baby peas
1 cup bean shoots (opt.)

Instructions:
1. Heat oil in pressure cooker over high heat. If using electric pressure cooker, set it to "brown". Add garlic, ginger, and white parts of spring onion, and stir for a few seconds, until fragrant. Add bacon, bell pepper, and carrot. Cook for two minutes, stirring occasionally.
2. Add rice, and stir until each grain is coated with oil and vegetable juices. Add beaten eggs, and stir to scramble. Add boiling chicken stock or water, soy sauce, and sesame oil. Cover, and bring to pressure using the HIGH setting. Count down 3 minutes, and remove from the heat. (If using an electric pressure cooker, turn off the "keep warm" setting). Allow to sit for 10 minutes.
3. If there's remaining pressure after 10 minutes, release it, otherwise remove lid and fluff rice with a spatula or rice paddle. Stir in baby peas and bean shoots if using (baby peas will thaw out in contact with the hot rice). Spoon into bowls, and sprinkle with spring onion greens. Serve with extra soy sauce for sprinkling to taste.
* The stock or water doesn't have to be boiling – it just makes the cooker reach pressure quicker.