There's nothing more inviting than a toasty-warm bedroom on a cold winter night. Instead of using your heater, you can escape the chill (and avoid a higher energy bill) with a cost-effective, cosy electric blanket.
How much electricity does an electric blanket use?
Generally electric blankets, which disperse heat through built-in wires, consume little energy. On average, they cost about four cents an hour, compared to some space heaters which can cost around 15 cents an hour.
According to calculations from Choice, it should cost around $20 per season to run a single bed electric blanket, including pre-heating it, every night for three months.  
How long do you need to run them for?
Electric blankets are very effective heaters, so you usually only need to run one for around 10 to 30 minutes on an average setting before switching it off. As the warm air is trapped under your doona, you should keep warm all night – and you probably won't need a space heater. Many electric blankets also come with timers that can be pre-set to switch off. We wouldn't recommend having your electric blanket on all night, even if it has an all-night mode.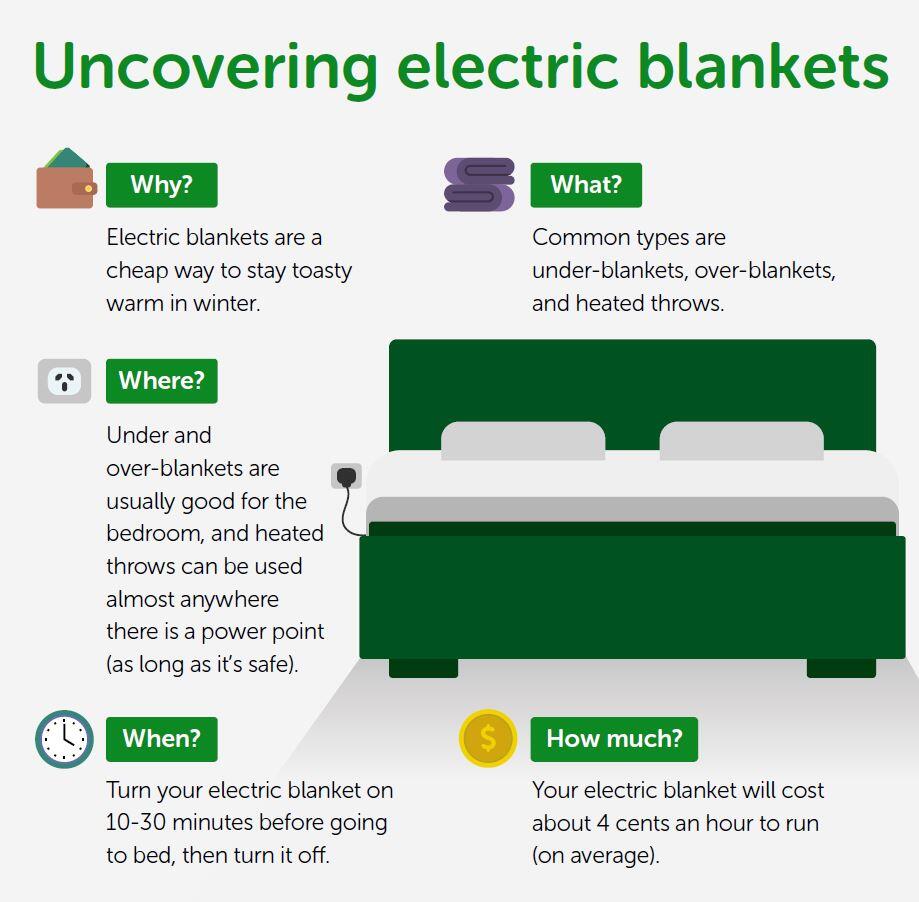 What types of blankets are there?
The most common type is the electric under-blanket, which sits under your fitted sheet. However, there are also over-blankets, which sit on top of your doona and maintain a constant temperature all night. There are even heated throws for your couch, which could minimise or eliminate the need for a heater in your lounge room.
What should I look for when buying one?
Make sure the blanket has an overheat protection sensor to switch it off if it gets too hot, plus a control with raised markings for handling in the dark. Fitted blankets are more convenient than those with string ties, and a fleecy blanket should be more comfortable than a thinner one. Select one with a high energy efficiency rating.
Are electric blankets safe?
Yes, as long as you take care of them and roll them up when in storage. Replace your blanket if it has any of the following: bent wiring, scorch marks, frayed fabric, exposed elements, dampness, worn patches, damaged cords, or loose connections.
All blankets, even those in good condition, should be replaced every 10 years. It's also recommended that young children not use them due to the control required. And never use them in an infant's cot.
According to Choice, in Australia all electric blankets must carry AS/NZS 60335.2.17:2012, so look for this when shopping. And always read the instructions and follow the manufacturer's recommendations for use and care of your electric blanket.
Rug up and save
Keeping energy and heating costs manageable is always a concern during the cold months. By effectively using an electric blanket to warm up, you will save more on energy and you'll also get a restful night's sleep.