Start as you mean to go on by making sure your new home is energy efficient. By working to reduce energy wastage, you can cut energy bills and save money - as well as doing your bit for the environment.
Look out for bad habits
Daily bad habits, like leaving the lights on when you're not in the room or boiling a full kettle when you're only making one coffee, can quickly add up. Be energy conscious around the house and you'll soon see a saving in your energy bills.
Invest in insulation
The best way to keep your home at a comfortable temperature is to invest in insulation for your ceiling, floors and walls. Reducing your energy bills all year round, insulation will help you stay warm in winter and cool in summer without overtaxing your air conditioner or heating system.
Update your hot water system
Out of date hot water systems can be a big drain on resources. Typically, your hot water system uses more energy than all of your other electrical goods combined, so be sure to explore modern, energy-saving systems.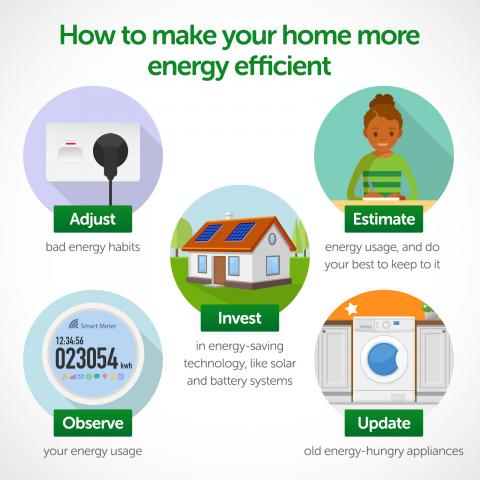 Harness the sun
You could also put Australia's plentiful sun to work by installing solar panels. Harnessing the sun can drastically reduce your bills and the sophisticated systems have a gas or electric boost to make sure you're covered even on cloudy days.
Think about your windows
Letting in heat in the summer and cold in the winter, inefficient windows can be a very costly business. Improve efficiency by installing double glazing or window films. You can also reduce the problem by fitting blinds or shutters.
Draught proof your home
There are lots of other sneaky ways for heat to escape and a short while spent draught proofing your home can have lasting benefits. Wait for a windy day then check the edges of all of your windows and doors - you'll be able to hear a draught, as well as feel it.
Check your supplier
Is your supplier offering you the best prices? Use our estimate tool to compare electricity and gas plans and find out more about our GreenPower options - specially designed and accredited to help reduce the environmental impact of your energy use.