Key Points                                                       
EnergyAustralia welcomes today's release of AEMO's Integrated System Plan (ISP), which sets a pathway to the development of a cleaner, modern energy system.

The plan needs detailed implementation mechanisms and commitment from governments and industry to make it a reality.

This includes certainty on the timing of closure of existing generation.

EnergyAustralia continues to work around the clock to make our generation available to supply homes and businesses.

EnergyAustralia recognises that people face tough situations at different times in their lives. Customers experiencing financial difficulty are encouraged to reach out (small businesses dial 1800 146 749, residential customers dial 133 466).
Statement attributed to Mark Collette, Managing Director at EnergyAustralia:   
"EnergyAustralia welcomes the release of the Australian Energy Market Operator's Integrated System Plan, which provides a pathway to how a net zero power system in Australia can be developed. 
"Australia needs detailed implementation mechanisms and commitments from governments and industry to turn the ISP recommendations into reality. Evolving the existing market to work with a proposed capacity mechanism to drive reliability and investment through a future of coal closures is a top priority.
"Working out how a capacity mechanism can interact with the existing market to ensure adequate flexible capacity and available storage needs to be prioritised, alongside when coal will exit the system.
"Australia needs to build the new energy system before the existing generators retire and we support a capacity mechanism which helps deliver this ambition.
"We look forward to working with governments, market bodies and other stakeholders to achieve this.
"EnergyAustralia is getting on with the transition by introducing more flexible capacity to support a smooth transition that in future will be dominated by renewables.
"On current supply our teams are ensuring there is good supply into the system with our Jeeralang, Tallawarra and Newport gas assets remaining available.
"Mt Piper power station in New South Wales has both units in operation and continues to supply over 10 per cent of the state's daily maximum electricity demand, despite lower coal production and deliveries than planned from its primary supplier at Springvale mine
"At Yallourn power station in Victoria, two generating units are online (of four in total). One of the remaining units is due back before the weekend and we are working hard to return another unit to service by the end of next week.
"Hallett power station will be offline for the remainder of the week due to works being undertaken by ElectraNet, South Australia's transmission network provider.
"EnergyAustralia's gas assets have been running seven times the volume compared with the same period last year, playing an important role of keeping the lights on for customers. 
"We continue to consult with the Australian Energy Market Operator on the availability of our generating assets across Australia."
-ends-
Supporting customers
EnergyAustralia's EnergyAssist program means the power won't be disconnected and debt collection activities won't be initiated. Residential customers on the program also have access to tailored payment plans, energy audits, information on grant programs and advice on energy usage. 
Through Rapid Business Assist, specialist advisors can discuss ways for EnergyAustralia's small and medium-sized business customers to lower energy consumption, the government energy relief subsidies available, and options for tailored payment schedules.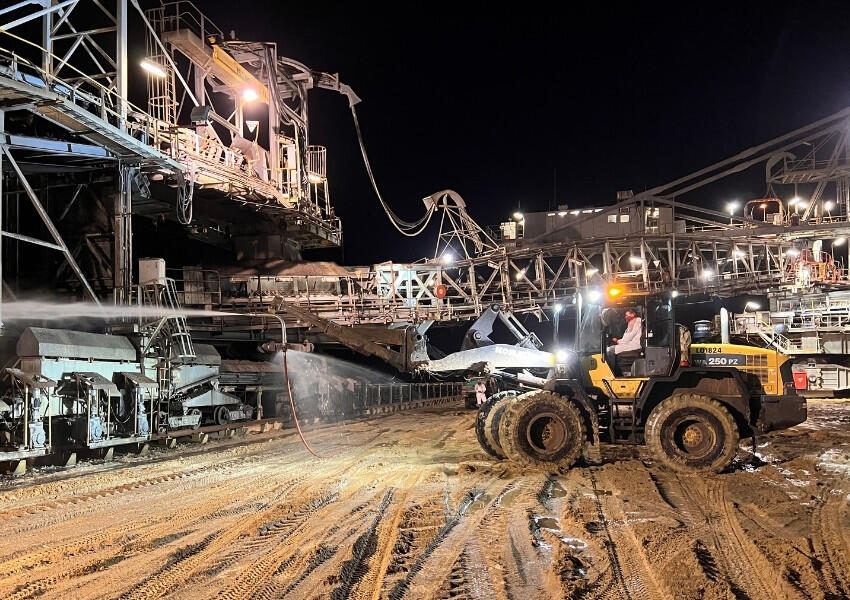 The Yallourn mine team in Victoria cleaning a dredger, which is a crucial piece of machinery used to mine coal. 
The team at Jeeralang power station in Victoria refitting thermal insulation for the safety of the plant and workers.