Winter brings a lot of good things like hearty comfort food, rugging up and brisk walks, but with shorter, colder days, it also means your energy use typically goes up. The majority of customers usually see an average electricity cost increase of at least 25% from summer to winter.
Here are some tips on using your energy efficiently, staying warm and managing your energy bill costs throughout winter.
Mind the gaps
Minimising draughts is the most cost effective way to reduce your home energy use. Areas where air leaks in and out cause heat loss, no matter how new or efficient your heating system is. Filling the gaps will make your home more comfortable all year.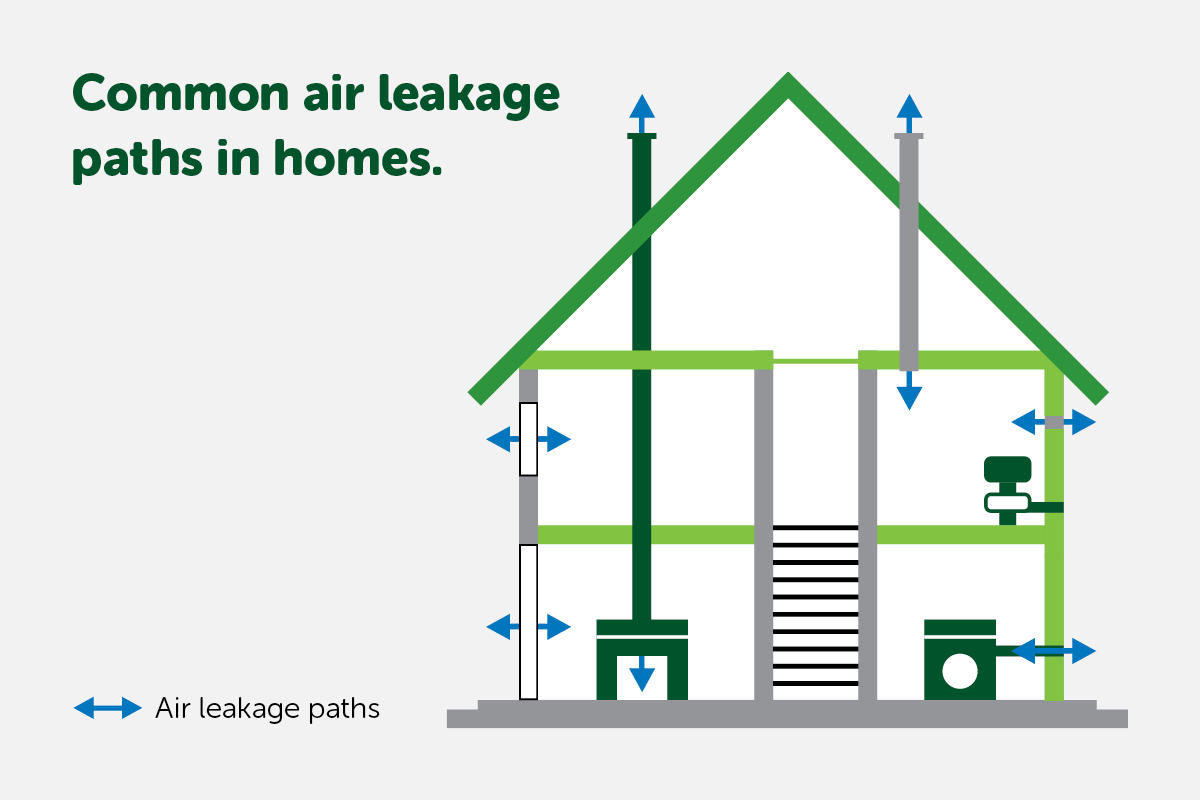 Our diagram gives you a general idea how many leak points there are in homes. You can easily and fairly cheaply find fabric snakes and other sealing products at your hardware store to fill those pesky draughty gaps.
Peg your hot water use
Using cold water instead of hot or warm water for your washing machine can save you energy. While it's tempting to throw your towels straight into the dryer too, remember that also uses a lot of energy. Where practicable, make use of some bright winter sunshine to at least start the drying process on a clothes rack or washing line outside. Place your clothes rack in an open space to make the most of the heater - and use the spin cycle in your machine to get rid of as much moisture as possible before hanging them up.
Tap into shorter showers
Check your laundry, bathrooms and sinks for any leaking taps, especially hot taps. And while we all love a long hot shower or bath to warm up, they do use more energy. Shorter showers and low flow shower heads can reduce the amount of energy used to heat up your water.
The heat is (not) on
If possible, to save energy, close off areas of your home that aren't in use when you've got the heater on, so that the heat is being efficiently used. Set your heating between 18°C and 20°C (remember the saying, 20°C is plenty). Every degree higher could be using 10% more energy.
Layer up
Dress for the season. Add another layer of warm clothes so you're not tempted to turn up the heater. Socks, slippers and season-appropriate bedding will make you feel more comfortable, whether you're working or relaxing. Who says you can't wear your 'oodie or 'slanket' for Zoom meetings?
Insulation in hibernation
If possible, invest in effective insulation in your ceiling and walls. Proper insulation keeps your home warmer in winter (and cooler in summer). Thick curtains can make a big difference to the amount of heat lost through glass.
Tech talk unplugged
Working from home this winter using computers and other devices will definitely make a difference to your energy bill costs. Some ways you can minimise your use is by being mindful of when to switch off and unplug. It's easy to forget to do this, but getting in the habit will help you save in the long run.
Turn off your computer when you've finished with it

Set your monitor to switch off/sleep after 10 minutes when it's idle

Reduce screen brightness

Close unused applications and tabs. On your smartphone, get rid of unwanted or unused apps so the battery power lasts longer

Switch off chargers at the wall once charging is done, and avoid charging your phone overnight if you can. (This is a tough one!)

Turn off your printer, copier and scanner when you're not using them. Print on both sides of the page

Games consoles, televisions, modems and other equipment all have standby options but switching them off at the power point can help you save more
Use My Account and our app to check your usage
With My Account, you can manage your energy accounts in one secure place online. It only takes only a few minutes to register. Our EnergyAustralia App also makes it easy to use your smartphone to manage your energy. If you're an electricity customer with a smart meter, you can view your daily usage to see how your change of behaviour is helping manage your costs.
We're here to help
Contact us about flexible payment options including setting up a regular payment plan before your next bill. You can also find out about our EnergyAssist program if you need more time to pay your bill, or any government concessions you may be eligible for.