Science at the Local – Lithgow Workies, Mick Hanly (EnergyAustralia), Dr Peter Smith, Dr Eva Chen at Science at the Local Lithgow in June
A worker's club may not be the most obvious location for a science presentation, but that's exactly where the smash-hit program Science at the Local takes place. "It's all about bringing people together to talk about science in a friendly environment," says co-founder Dr Hamish Clarke. "And what could be friendlier than your local?"
Dr Clarke, who is a bushfire researcher at the University of Western Sydney and the University of Wollongong, founded Science at the Local in 2014 after striking up a conversation at his local basketball court with high-school science teacher Kevin Joseph. Since then, the pair have been running the program at Springwood Sports Club in the lower Blue Mountains.
But this year, Science at the Local is hitting the road. With financial assistance from an EnergyAustralia Community Grant, the attention-grabbing lecture series has recently travelled west to Lithgow for a Sunday-afternoon talk – with another one on the horizon. "The reason Science at the Local appealed to us was the idea of taking scientific topics and making them relatable and engaging for our community. Science is more than people in lab coats. It's our world around us and we are very keen for the people of Lithgow, and particularly our young people, to join in the conversation" says Mick Hanly, EnergyAustralia Community Relations Lead.
The first event took place in late June and Dr Clarke says it was a roaring success. Lithgow locals heard from Dr Eva Cheng from Sydney's University of Technology, who spoke about highlights of her career in engineering and education, including taking students to southeast Asia to study the impact of engineering in developing countries. Also speaking at the Lithgow event was climate change consultant Dr Peter Smith, who shared stories of "trying (and sometimes failing) to use science for international aid projects".
 
Dr Clarke says inviting a diverse range of speakers who subvert scientific stereotypes is a key part of making the program engaging for audiences. Now the pair is preparing for the follow-up in November.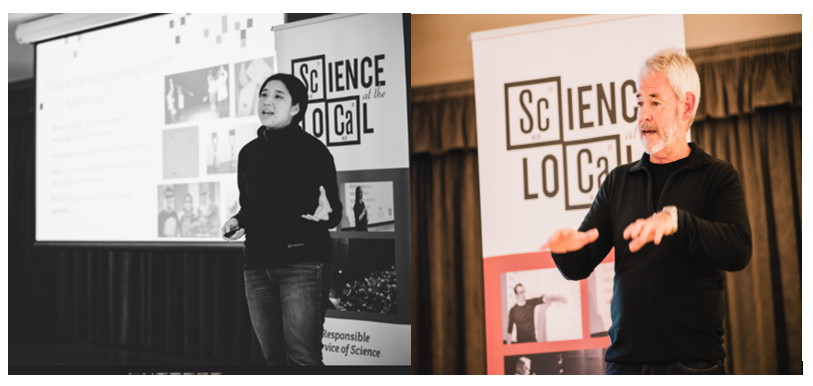 Image: Dr Eva Chen and Dr Peter Smith at Science at the Local – Lithgow
What's the aim of the events?
As well as educating the audience and showing them that science is relevant to our everyday lives, the organisers say Science at the Local events help foster a sense of community among attendees. "Yes, it's about science and science literacy, but it's also about community," Dr Clarke says. "Attendees get the chance to talk to world-recognised experts, but they also get the chance to talk to people from their community."
Each event includes a lively Q&A session and an interval, so people can grab a drink or a bite to eat and chat to their neighbours. Dr Clarke says the Blue Mountains events now attract a dedicated group of locals who take the opportunity to catch up and share news. He hopes a similar sense of community will develop in Lithgow.
"If you're interested, come along!" he says. "It costs nothing to rock up and you never know who you'll meet or what you'll learn."
Find out more about Science at the Local's upcoming events, including the free Lithgow series in November, here. The next round of applications for EnergyAustralia's Lithgow Community Grants opens in August – visit the 'Community' page at  energyaustralia.com.au/mtpiper for more information.
Imagery supplied by: Eddy Summers