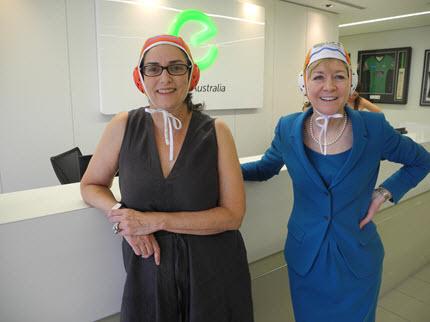 Today marked the launch of EnergyAustralia's Prism Network, which aims to support our welcoming culture in relation to lesbian, gay, bisexual, transgender and intersex (LGBTI) employees and their supporters (also known as 'allies'). 
The company hosted an event to mark the occasion, inviting Christine Forster - City of Sydney councillor and LGBTI advocate, who is also former Prime Minister Tony Abbott's sister - and her partner Virginia Edwards, who both shared their stories and emphasized the importance of having a network such as Prism at EnergyAustralia.
Coinciding with the launch, EnergyAustralia's Chief Information Officer Anne Weatherston, executive sponsor of the Prism Network, and Managing Director Catherine Tanna donned colourful water polo caps to show support for an awareness campaign on social media, aimed at celebrating diversity in sport.
Ms Weatherston said it was important for the company to actively support diversity in all sectors of our community.
"While we already have a diverse and inclusive culture at EnergyAustralia, we always strive to do better," Ms Weatherston said.
"Our Prism Network will enhance our company culture to ensure everyone feels welcome and encouraged to bring their whole selves to work.
"Taking part in the 'wear the cap' campaign on Twitter is a wonderful way we can actively support diversity and inclusion, not only at EnergyAustralia but in our community as well."
Our leaders joined 500 counterparts from government, corporate, the sports sector and the media and entertainment industry wearing these caps and tweeting a photo using the #wearthecap hashtag, either from their own or their organisation's account.
This campaign will conclude with the Pride Cup tonight, which involves a water polo match played between elite water polo team the Victorian Seals and Melbourne-based LGBTI team Melbourne Surge.
With some of Australia's Olympic water polo athletes battling it out tonight, this will be the first Olympic sporting code to celebrate pride and diversity through playing sport.