Key Points                                                       
EnergyAustralia has paused billing and associated activities for customers who live in postcodes impacted by the flooding in parts of NSW.

Customers experiencing financial difficulty are encouraged to reach out (small businesses dial 1800 146 749, residential customers dial 133 466).

EnergyAustralia continues to work around the clock to make our generation available to supply homes and businesses.
Statement attributed to Mark Brownfield, Chief Customer Officer at EnergyAustralia:   
"While Australia is in the middle of an unprecedented energy shock, NSW communities are having to evacuate their homes because of flooding.
"Customers who need a continuous supply of power for their life support equipment should have their back-up plans ready to go if the power in their area goes off.
"Guidance can be found on our website and if customers want to speak to someone directly, they can call our EnergyAssist team on 1800 120 084.
"We've automatically suspended issuing energy bills and paused collection activities in areas that have been evacuated by the NSW State Emergency Service.
"We will send every customer an SMS to let them know their energy bill has been put on hold. We will give them the choice to recommence billing if they prefer.
"Right now our job as a generator and a retailer is to keep pumping power into the system to support our 2.4 million customer accounts and to help anyone, residential or small business, who may be doing it tough.
"EnergyAustralia's power station teams are working around the clock to make sure there is good supply into the system.
"There are currently three units online at Yallourn power station in Victoria and the team is working hard to return another unit to service within the next week.
"One of the online Yallourn units is expected to come offline for routine maintenance in the coming days.
"Mt Piper power station in New South Wales has both units in operation and continues to supply over 10 per cent of the state's daily maximum electricity demand.
"EnergyAustralia's gas assets have been running seven times the volume compared with the same period last year, playing an important role of keeping the lights on for customers. 
"We continue to work with the Australian Energy Market Operator on the availability of our generating assets across Australia." 
-ends-
Guidance for NSW customers
Supporting customers
EnergyAustralia's EnergyAssist program means the power won't be disconnected and debt collection activities won't be initiated. Residential customers on the program also have access to tailored payment plans, energy audits, information on grant programs and advice on energy usage. 
Through Rapid Business Assist, specialist advisors can discuss ways for EnergyAustralia's small and medium-sized business customers to lower energy consumption, the government energy relief subsidies available, and options for tailored payment schedule.
Payment assistance 
Eligible South Australians on low or fixed incomes can apply for help with the cost of energy bills for their principal place of residence. If you receive the energy concession, you could also be eligible for the 

SA Concessions Energy Discount Offer

. 

The Victorian Government is giving a once-off $250 payment for all Victorian households that use the Victorian Energy Compare website, found at   

https://compare.energy.vic.gov.au/psb-faq

Queenslanders will receive a $175 Cost of Living Rebate on their next power bill. Electricity providers will automatically apply the credit, so Queenslanders don't have to apply.

NSW residents are eligible for Energy Accounts Payment Assistance (EAPA) $50 vouchers.  See 

Apply for Energy Accounts Payment Assistance (EAPA) vouchers

 for more information. 
EnergyAustralia recent energy announcements:
investment in a 350MW, 4-hour battery at Wooreen;

construction of Australia's first hydrogen/gas peaking power station, Tallawarra B, with over 300MW capacity; all greenhouse gas emissions to be fully offset over its operational life;

introduction of Solar Home Bundle in NSW where EnergyAustralia arranges the selection and installation of a solar and battery system at their home, with no upfront cost. After seven years, the customer owns the system outright;

our storage services agreement for the 250MW Kidston pumped storage hydro project in Queensland; and

underpinning the Darlington Point and Riverina batteries for a combined 90MW in NSW.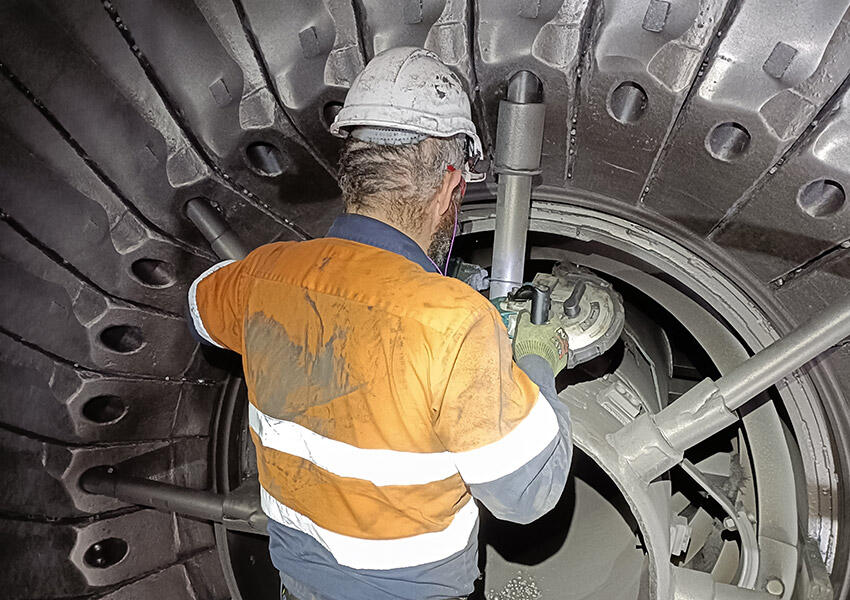 Cutting large bolts on a component of the mills at Mt Piper power station in NSW. Mills are used to grind coal to a fine powder.