Explaining your gas bill
Below is an example of your gas bill. Click the hotspots on each section to explore the items in more detail and find exactly what you're looking for.
Click the hotspots to show bill explanations.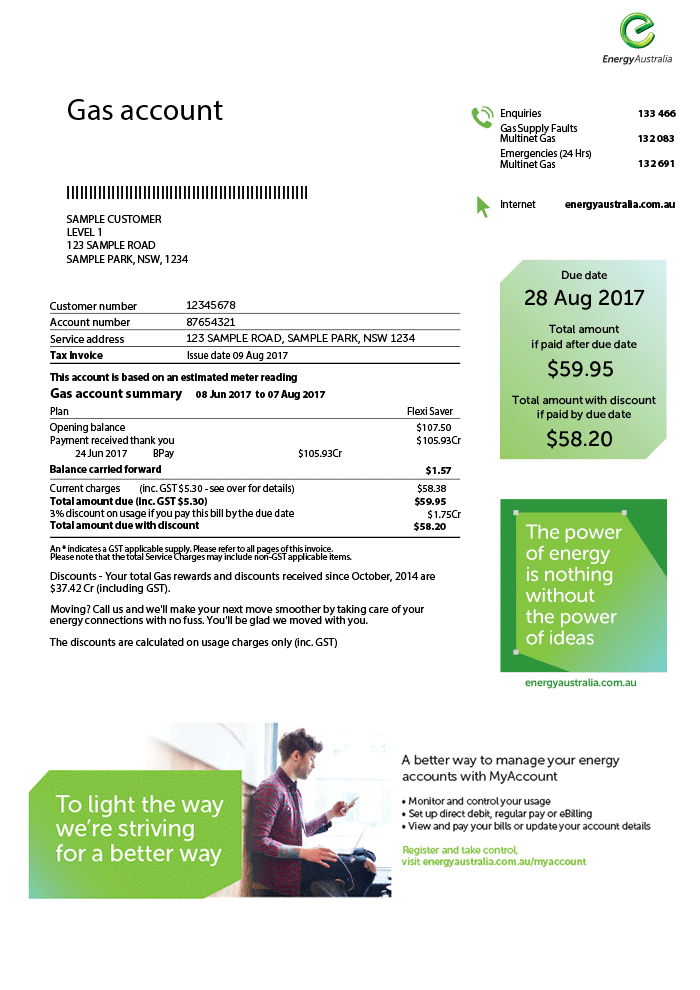 The payment options section lists the range of convenient ways you can pay your bill.
Some payment fees may apply if you pay with your credit card or over the counter at Australia Post. To find out more about our payment fees and how to avoid them, go to energyaustralia.com.au/payment-options.
The due date is the date by which your account must be paid. If you pay your bill by direct debit then your payment will be debited from your nominated bank account on the due date or as per the arrangements of your direct debit payment plan.
The total amount due is the amount payable (including GST).This amount includes any payments made towards your account or balances that have been carried forward from your previous gas bill.
Any discounts that apply to your plan are calculated and subtracted from your bill. Discounts may apply to your gas charges or when you pay on time. Please note that any pay on time discounts are only applied to your account if you pay your bill by the due date. Your pay on time discounts will appear in the 'Adjustments' section on the front page of your next bill.
To find out more about your plan discounts, go to energyaustralia.com.au/plans.