On May 14 this year, Prism, Energy Australia's LGBTI+ network, and the Sydney Opera House brought together five diverse voices and thought leaders in Melbourne for a panel discussion to mark International Day Against Homophobia, Transphobia and Biphobia (IDAHOBIT). On the agenda? A wide-ranging discussion about what being a trans ally looks like, be it in the workplace or the wider community.
IDAHOBIT, which was launched in 2004, is a day aimed at championing inclusion for all and to highlight the discrimination and violence that the LGBTI+ community still faces. While there might be growing public support for, and acceptance of, people who identify as LGBTI+, the numbers paint a sobering picture: 75% of LGBTI+ youth experience some form of discrimination, while 36.2% of trans Australians suffer from depression, compared to 6.8% of the wider population.

It starts with empathy
On the question of how to support trans friends, family members or co-workers, the event's moderator, Will Fennell, says the answer is simple. "It comes down to basic humanity … you need to make every person feel valued and appreciated," says the writer and beauty editor. "If you can come at it with empathy, and wanting to treat that person how you would want to be treated, I think that's a great step."
Anastasia Le, who is working to raise awareness and visibility of trans women of colour, agrees. "Being a good ally means empathy and being really able to feel the person in front of you," she says.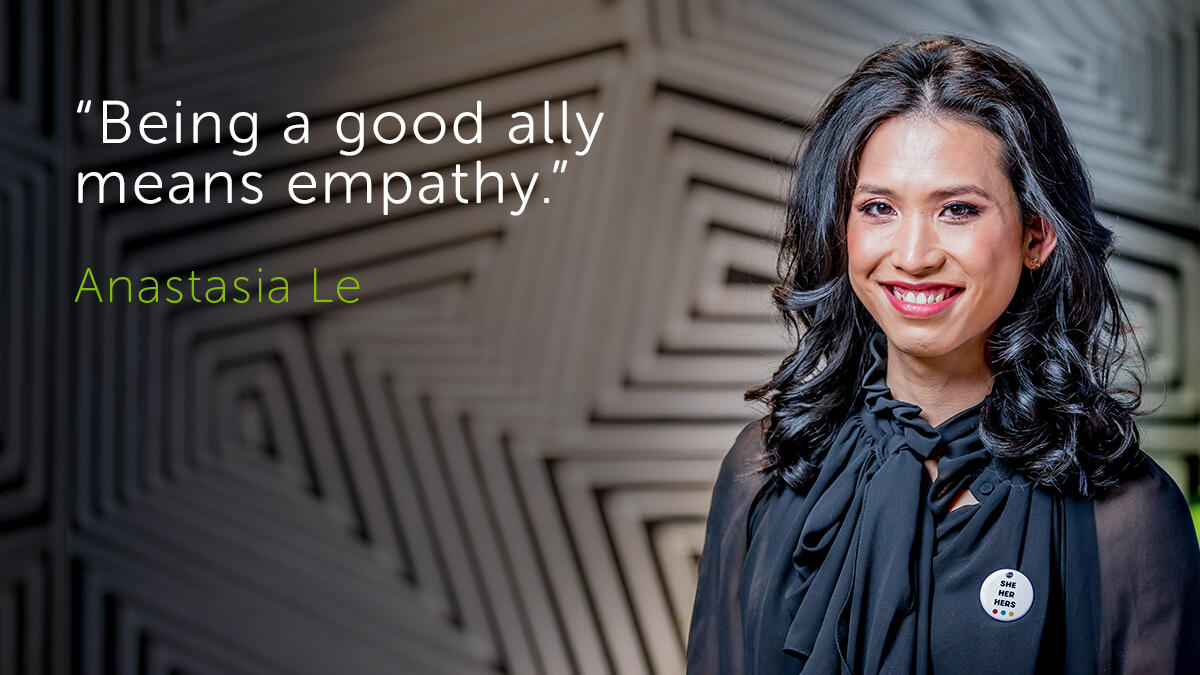 Human-to-human
At the end of the day, no matter how we identify or what we look like, we are all the same. That's the message that Peta Friend, a proud trans woman, small business owner and community leader believes society needs to take on board.
"We really just want people to connect with us as people," she says. "We want them to see what we have gone through, not so much as a trans experience but a human experience."
Language matters
Over the past few years there has been burgeoning understanding and acceptance of non-binary pronouns, such as 'they' and 'them' or 'ze' and 'hir'.
But Nevo Zisin, a Jewish, queer, non-binary activist, public speaker and author who uses 'they' and 'them,' says more needs to be done than simply just "practising pronouns".
"It's also a matter a changing the way you view that person," Nevo says. "Because once you change your perspective and change your mind, pronouns come as a much easier secondary thing."

Question time
The next step, according to Will Fennell, "is learning, is asking questions. Researching and finding out what are the important steps you need to make to make change."

The IDAHOBIT website is a great place to start, with downloadable toolkits for offices and schools.
 
A seat at the table
For diversity consultant and project manager Jeremy Wiggins, it is imperative that the trans community is genuinely recognised and included on a bureaucratic level. 
"The absence of evidence is not the evidence of absence and often through national data sets, research projects and policies, we are not counted appropriately, and our needs aren't reflected," he says. "That means we need good trans allies to go a little further [so] that we are the table, that our voices are heard and that we are able to speak for ourselves."