Gouldian Finch. Image credit: Australian Wildlife Conservancy.
---
Through our carbon neutral program, Go Neutral, we support various carbon offsetting projects in Australia and abroad. One of the projects is the Australian Wildlife Conservancy's (AWC) carbon reduction program in parts of our ecologically diverse Top End. We do this by purchasing Australian Carbon Credit Units that the project creates.
Through the AWC program, carbon emissions from wildfires are reduced through strategic fire management.
Planned burning and fire suppression break up the landscape into fuel loads of differing ages.    When wildfires ignite, reduced fuel loads mean fires go out or are more easily extinguished when they reach an area already burnt during prescribed operations. This limits the spread of wildfires and, importantly, ensures that the landscape contains patches of old growth vegetation – vital for animals' food and shelter.
Stunning ecological diversity in Piccaninny Plains
Piccaninny Plains lies in the heart of Cape York Peninsula, a region of global significance for conservation. Covering more than 160,000 hectares, Piccaninny Plains is a mosaic of rainforests, woodlands, wetlands and grasslands and home to iconic wildlife like the Palm Cockatoo.
Spectacular forests and wildlife in Wongalara Wildlife Sanctuary
Located on the southern edge of Arnhem Land, Wongalara covers over 190,000 hectares of magnificent habitat with the Wilton River running through the property.
Wongalara is the home of significant Top End wildlife including the Hooded Parrot and the Kakadu Dunnart. Threatened and declining species on the property include the Gouldian Finch, Spectacled Hare-wallaby and Northern Brown Bandicoot.
Reduction in wildfires, reduction in carbon emissions
Overall every year, the AWC's work to reduce wildfires across the north of Australia averts more than 100,000 tonnes of carbon from being emitted into the atmosphere. This is equivalent to removing more than 30,000 cars off the road for a year.*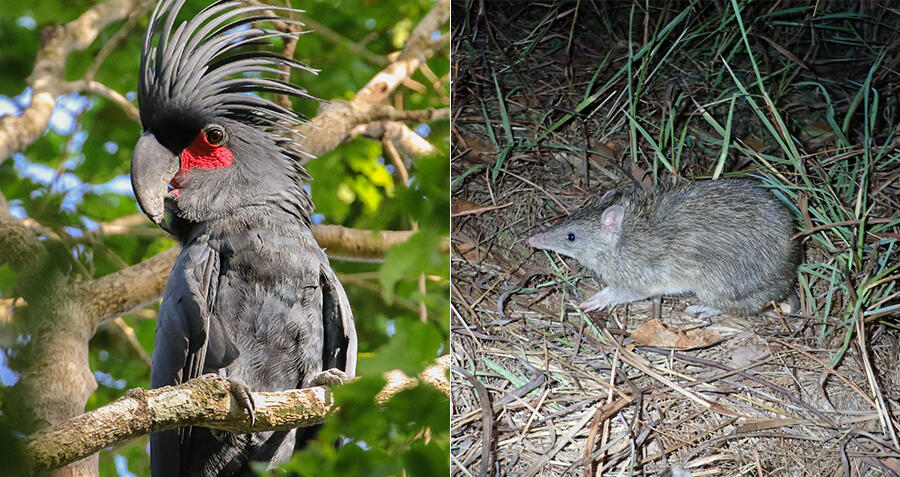 Collaborating to ensuring the future of our furry and feathered friends
Fire management programs in northern Australia involve high levels of collaboration between AWC ecologists, land managers and Traditional Owners of the land.
How does Go Neutral help offset emissions?
To make your home energy use (your electricity, gas, or both) carbon neutral, we calculate the emissions associated with your household energy use and purchase corresponding carbon offset units, such as those created by AWC's projects, to offset those emissions.
At EnergyAustralia, we're very proud that our carbon neutral program supports this vital project, helping to ensure the future of some of Australia's most vulnerable species and reducing the environmental impact of carbon emissions. We'd like to thank our customers who have opted in for carbon neutral energy at home and are continuing to help make a difference. If you want to be a part of something big at no extra cost to you, you can easily opt-in to Go Neutral today.
*Using a factor of 3.2 t/passenger car/year. Based on 2016 Australian passenger vehicle numbers (Australian Bureau of Statistics Motor Vehicle Census) and 2016 greenhouse gas emissions for cars (National Greenhouse Gas Inventory's AEGIS database).