​​On its 40th anniversary, this year's Sydney Gay and Lesbian Mardi Gras is set to be bigger than ever before! And EnergyAustralia is partnering with Sydney Opera House on their first ever float in the parade.
EnergyAustralia has a strong commitment to diversity and inclusion.
"EnergyAustralia values the diversity of our entire team" says Hannah, procurement leader at EnergyAustralia. Georgina, a regulation advisor, agrees. "I'm proud to work for a company that celebrates diversity."
This is something that's reflected in the number of employees involved in Prism, our employee-run LGBTI+ network. Over one third of our employees actively participate in Prism, even though it only started two years ago in 2016.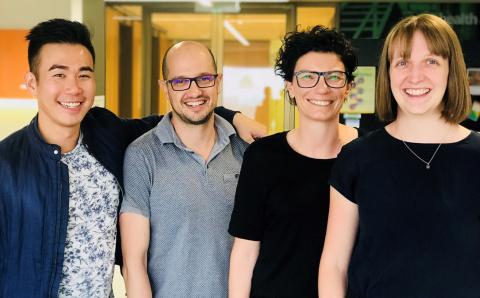 Jonathan, Dan, Justine, and Georgina are proud and happy to march in the Sydney Gay and Lesbian Mardi Gras
With diversity and inclusion being so important at EnergyAustralia, participating in the Mardi Gras is another way to celebrate and show support.
"We had a fantastic year where we were recognised as the most improved company in Australia with regards to LGBTI+ inclusion," says Prism Co-Chair, James Robertson. "And with sex or gender no longer affecting the right to marry, we were very excited to have this opportunity,"
James says the Opera House float is set to be spectacular.
"Veteran float designer George Savoulis is the creative director and Tim Chappel is the costume designer, and I think the float will be the best in the parade," he adds. "Tim was the costume designer for Priscilla, Queen of the Desert, so we're expecting big things."
As a float partner, sixteen of our lucky employees are off to march in the parade. They come from a wide range of roles and locations across our business, and it was quite a challenge to choose who would get the opportunity.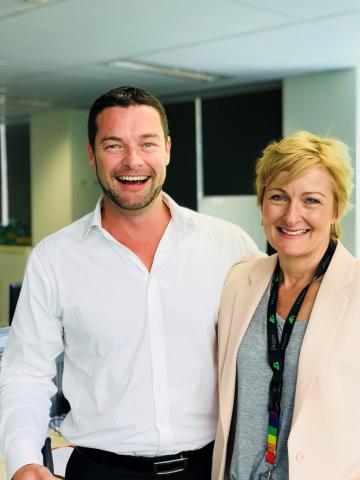 Michael and Lynn looking forward to marching in Mardi Gras
"We asked people to tell us what Prism means to them and why they would be excited to march in the parade. We had a great response and we're thrilled that we have taking part employees from areas as diverse as our power generation site in Mt Piper, NSW, to our contact centre in Geelong."
Responses to the question ranged from the heartfelt to the practical.
Equality is of utmost importance to Jean, a retention consultant. "[It] puts everyone on an equal footing," he said. To Alessandra, the Customer Experience Lead, it's about the support. "I feel completely supported."
Michael, a customer care leader, agrees.
"EnergyAustralia supports its most valuable asset – people."
At Prism's second birthday celebrations, staff were treated to a sneak peek of both the float design and the marchers' costumes before the official float launch.
"Cher is the headline act for the official Mardi Gras afterparty, so the bar for sensational costumes is going to be set really high," James says. "Our group has a lot to look forward to. It's a great way to start another incredible year for Prism."