In 2016, EnergyAustralia launched a Reconciliation Action Plan (RAP) to make a positive difference within our business, among our customers and in the broader community through reconciliation.
At the centre of the reconciliation plan is our determination to strengthen relationships and build positive long-term connections with Aboriginal and Torres Strait Islander people and organisations. One great example of a RAP commitment is our partnership with the Port Adelaide Football Club's Aboriginal AFL Academy.
Established in 2014, the academy provides an elite AFL platform for 30 to 40 Year 11 and 12 students who demonstrate a commitment to achieving excellence in football and education. Mentored by Port Adelaide staff, coaches and players, students participate in a range of high-performance activities, practice matches, cultural exchange and interstate and international travel. The students also complete a Certificate III or IV across disciplines such as fitness and Aboriginal studies.
Travelling north
In August this year, five EnergyAustralia employees were invited to join academy students on a visit to remote Aboriginal coastal homeland Nyinyikay in East Arnhem Land in the Northern Territory. The invitation included  the largest and most vibrant annual celebration of Yolngu culture, known as Garma.
The trip was a great opportunity to listen and talk with Aboriginal and Torres Strait Islander peoples from different communities and increase our understanding of their cultures and histories. It was also a chance for a small team of EnergyAustralia people to be recognised for their part in implementing EnergyAustralia's RAP in their workplace and across the broader business.
Nyinyikay in East Arnhem Land
EnergyAustralia operation administration lead, Natasha Casey, described Nyinyikay as "one of the most beautiful places on the planet with a breath-taking 97,000 square metres of untouched bushland."
In Nyinyikay, the group immersed themselves in local Aboriginal culture by camping out on Country, fishing for trevally, sharing stories and cooking cockles by campfire, searching for the right trees to make didgeridoos, and learning how different plants can be used for medicine.
"Being immersed in this way of life, taking part of these activities and learning about the Country was an experience like no other. It's an experience I'll never forget," explained Natasha.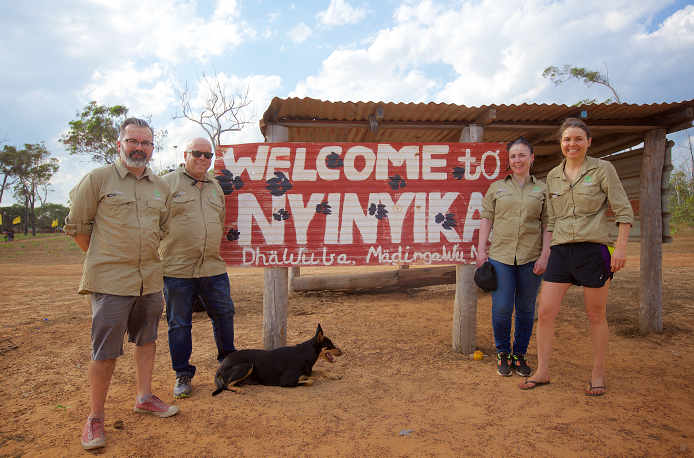 Garma Festival
After two days in Nyinyikay, the group headed to Garma, meeting at a place where Yolgnu people have gathered for more than 50,000 years. The festival, which focussed on the theme of truth telling, was celebrating its 20th anniversary.
Garma was a unique opportunity to explore issues including constitutional recognition, public policy, economic development, education and health for Australia's Aboriginal and Torres Strait Islander communities. 
The overall feeling of being at Garma was one of welcome.
"I was blown away by the welcoming arms and generosity of the Traditional Owners in sharing and teaching us about their culture," said stakeholder engagement lead, Bianca Graham. "It was heart-warming to watch Traditional Owners perform dances that have been handed down for over thousands of years.".
EnergyAustralia communications lead, Scott McDermott, agreed. "It was a real privilege to be on the Gumatj land, hearing directly from Aboriginal and Torres Strait Islander people from around the country – about their history, culture and the things that matter to them. Coupling formal presentations and panels with cultural experiences like the daily Bunggul made for a really powerful mix."
Next steps for the team is to share their learnings across the business and continue to implement our RAP to meet our vision to make a positive difference within EnergyAustralia, amongst our customers and in the broader community through reconciliation.