The way we generate, deliver and use energy has to change. As a big emitter of carbon, it's up to us to lead the transition to cleaner energy in a way that maintains that same reliable and affordable access to energy for everyone.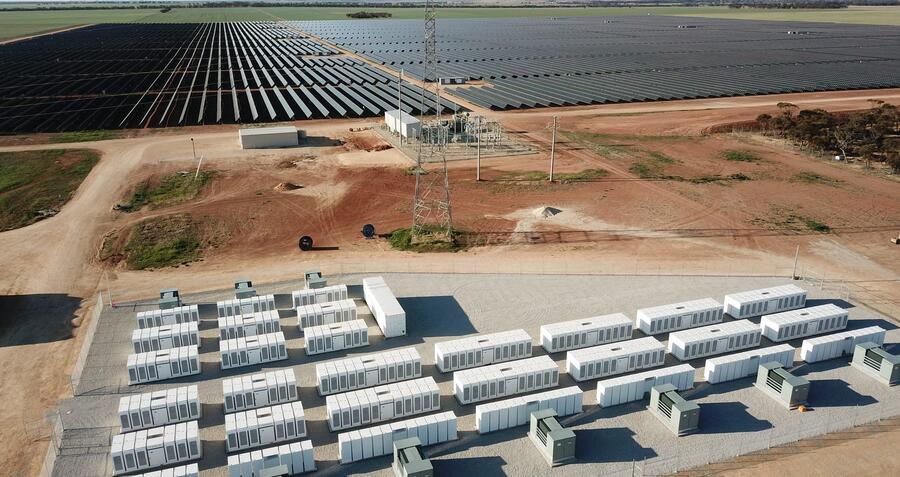 Gannawarra solar farm and battery storage
Clean energy portfolio
We operate and jointly own the Cathedral Rocks wind farm in South Australia. It has 33 wind turbines with a generation capacity of 66MW. 
We also have the rights to more than 500 megawatts of electricity generated by wind farms in New South Wales, Victoria and South Australia. Through these long-term agreements we underpin 12 per cent of the large-scale wind projects in the National Electricity Market. 
Based on an average annual household consumption of 5MWh this is enough to meet the needs of around 300,000 homes for a year.
Battery storage systems 
We hold rights to charge and dispatch energy from the battery storage systems at Gannawarra and Ballarat into the National Electricity Market until 2030 and 2033 respectively. 
The stand-alone Ballarat terminal station and co-located Gannawarra solar farm battery storage assets represent a combined storage of 80 megawatt-hours, giving EnergyAustralia the largest battery trading portfolio of any retailer in the National Electricity Market. 
Projects
We are exploring new approaches, like an energy recovery project at the existing Mt Piper power station in New South Wales and a pumped hydro storage project in the Spencer Gulf of South Australia. These projects and approaches will form part of a new, modern energy system in Australia. 
EnergyAustralia and Re.Group are developing a project to augment the 1400-MW Mt Piper power station near Lithgow in New South Wales with lower emissions generation. There's potential to provide reliable power for around 40,000 average homes while avoiding tonnes of household waste going to landfill.
EnergyAustralia and partner, Arup Group, are investigating a pumped hydro project using seawater at Cultana in South Australia. The facility would be capable of producing 225 MW of electricity with around eight hours of storage, equivalent to 126,000 home battery storage systems, but at a third of the cost.
Understand how EnergyAustralia is leading the transition from fossil fuels to cleaner forms of energy by visiting the clean energy fact sheet.